The military is also called the armed forces, which refers to conventional armed forces authorized to use lethal force and weapons to protect the interests of the people of their country. The task of the army is generally to protect the country and its people, and to launch wars against other countries. The conventional armed forces of some countries are not called military, such as the Japanese Self-Defense Force and the German Bundeswehr.
The military (
military lapel pins
) is approximately composed of the army (or military police), navy: here is the
navy lapel pins
(or marines), air force (or air defense forces) and other services. Some also include special forces, strategic missile forces, space forces, and electronic warfare forces. And among the soldiers, there are military ranks such as officer, non-commissioned officer, and soldier. The military can use state compulsory service or recruiting to supplement the source of troops.
This military enamel pin has a strong sense of military majesty. The color of the ancient bronze shows the solemnity, and the three-dimensional shape of the relief below shows the extraordinary craftsmanship. The upper part is the American flag, which is made of red, blue and white colors, and is clean and beautiful. In the middle of the military enamel pin is a big ship, which looks like a big warship, with many details, even radar and artillery. The lower part is the 3D eagle and the 3D flag. The surrounding circle is "USS PREBLE" and the branches that symbolize peace.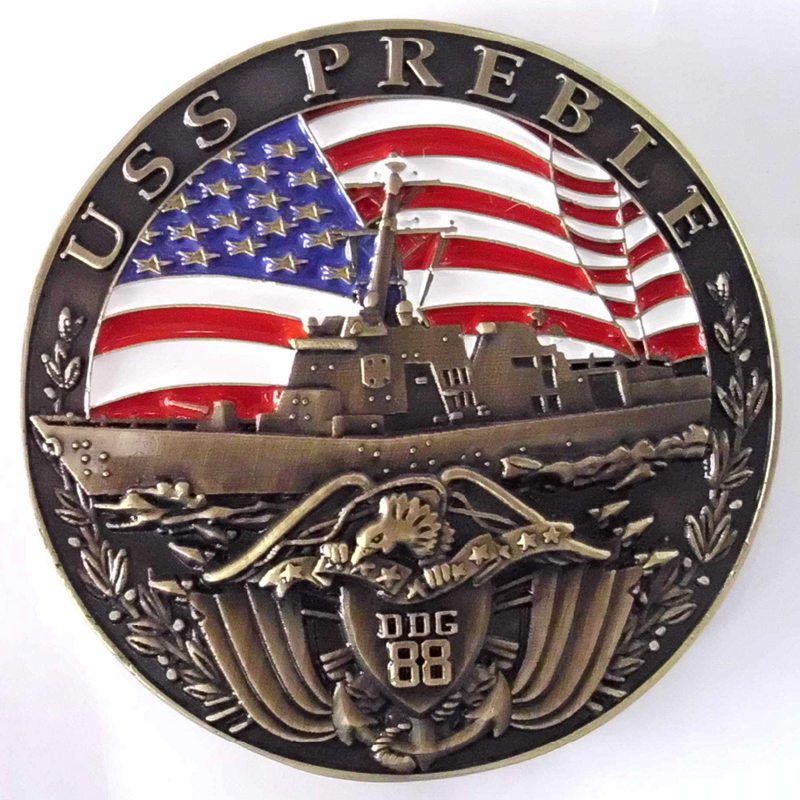 Here are the details:
1) Military enamel pin
2) Zinc alloy/Pewter alloy
3) Size: 1.5" or custom size
4) Attachment: Rubbers or butterfly clutch
5) Production process: Die casting-polishing-anti-bronze plating-soft enamel
6) Minimum order: No Minimum (No MOQ)
7) Sampling time: 7 days
8) Delivery time: 10-15 days for 100-5000pcs
9) Packaging: Each into a free poly bag
10)Payment Terms: PayPal,T/T or Western Union