Dragonflies are the general name of invertebrates, insecta, Order odonata and suborder diptera.The base of the hind wing is slightly larger than the base of the forewing and the vein is slightly different.When resting, the wings are spread out, flat on both sides.Nymphs are short and thick with rectum gills and caudal gills.The most common species of Fusinidae and Fusinidae are widely distributed in China.
Dragonflies are carnivorous insects.They prey on a variety of agricultural, forest and animal pests such as flies, mosquitoes, leafhoppers, horseflies and small butterfly moths.Dragonflies are a kind of important natural enemies beneficial to human beings."Dragonfly water" is a biological characteristic of dragonflies that lay their eggs in water.The larva (naiad) lives in water and its life period varies from species to species, such as the common dragonfly, which lasts for 2 years and some for 3 to 5 years.It can be used to monitor environmental pollution and has medicinal, edible and ornamental value.
Dragonfly with strong flying ability and sound feeding function;The dragonfly is an extremely strong flier that flies rapidly back and forth between mountain streams to catch prey.Dragonflies like a wet environment, so they usually fly in ponds or rivers, and their larvae also need to develop in the water.
The dragonfly lapel pin is the brooch too, it's more luxury and expensive than normal pins. The colors are making with color paste, colors are more bright-colored and gradual change. The gold plating are more shinny and polishing well. The whole dragonfly brooch have 3D design, vivid like a real one. The diamond (
glove diamond pins
) filled in the eyes and wings.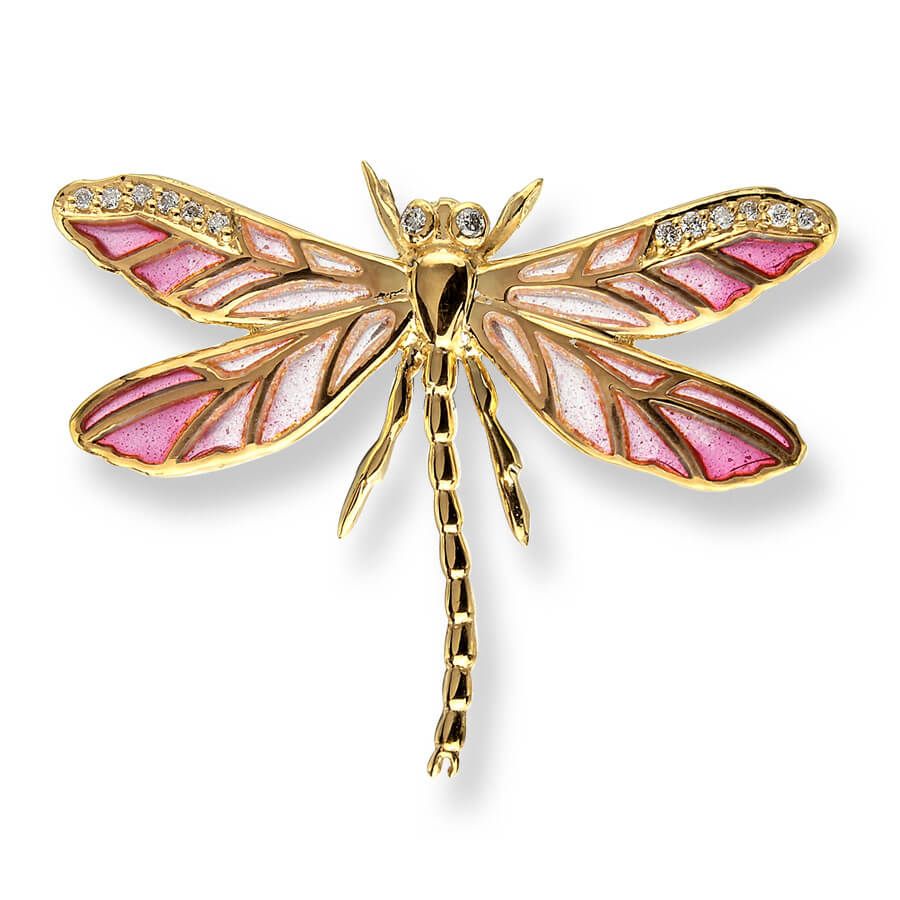 Here are the details:
1) Dragonfly lapel pins
2) Zinc alloy/Pewter alloy
3) Size: 1.5" or custom size
4) Attachment: Rubbers or butterfly clutch
5) Production process: Die casting-polishing-gold plating-soft enamel-diamond
6) Minimum order: No Minimum (No MOQ)
7) Sampling time: 7 days
8) Delivery time: 10-15 days for 100-5000pcs
9) Packaging: Each into a free poly bag
10)Payment Terms: PayPal,T/T or Western Union