Unicorns are mythical creatures of legend.The unicorn in current Western mythology is shaped like a white horse with a spiral horn in front of its forehead, representing nobility, pride and purity.Some of the stories are described as having wings, and there are even descriptions of unicorns that are black.The western unicorn is widely regarded as the archetypal Indian rhinoceros.
Unicorn, an animal in ancient mythology with a single horn in the middle of its head.In western legend, unicorn horns have a detoxification function, and many people take the opportunity to sell the powder of "unicorn" horns.In many western oil paintings, from time to time see the unicorn and girl picture.The unicorn was such a ferocious monster that it was impossible to capture alive, according to The Ancient Roman naturalist Pleass. And they're so sensitive that when they see a change, they run away.But unicorns love purity and innocence, and are easily seduced by beautiful maidens, so only pure maidens can capture them.
The unicorn lapel pin have the part of the unicorn, the head and long hair, long yellow angle on the head, the white face like a horse (
horse lapel pins
). Pink and purple hair on the long face. All unicorn pins are made with black nickel metal, it's a little shinny, soft enamel colors filled. Wonderful quality and design.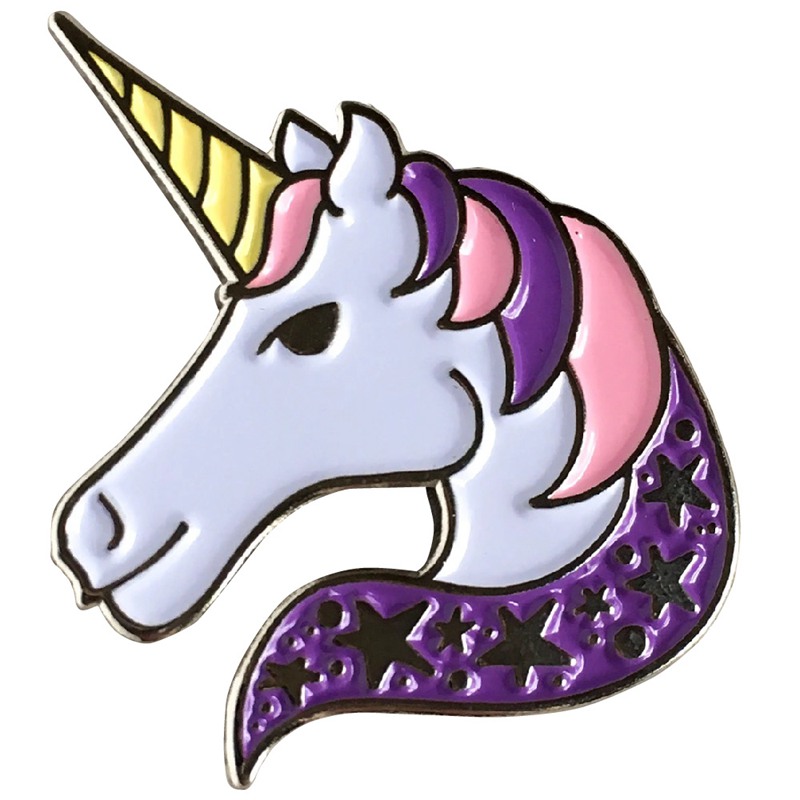 Here are the details:
1) Unicorn lapel pins
2) Zinc alloy/Pewter alloy
3) Size: 1.5" or custom size
4) Attachment: Rubbers or butterfly clutch
5) Production process: Die struck-polishing-black nickel plating-soft enamel
6) Minimum order: No Minimum (No MOQ)
7) Sampling time: 7 days
8) Delivery time: 10-15 days for 100-5000pcs
9) Packaging: Each into a free poly bag
10)Payment Terms: PayPal,T/T or Western Union