Trilobite is the most representative ancient animal that appeared in the Cambrian 560 million years ago. It is a kind of arthropod. The body is obviously divided into three parts: head, chest, and tail. The carapace is hard and the carapace The two dorsal furrows are longitudinally divided into roughly equal three pieces-an axial leaf and two ribbed leaves, hence the name trilobite.
Trilobites developed to a peak between 500 million and 430 million years ago, and were completely extinct in the Permian period to 240 million years ago. They lived on the earth for more than 320 million years before and after, which shows that this is a kind of extremely viable creature. In the long river, they have evolved a variety of species, some up to 70 cm long, and some only 2 mm.
After the trilobite emerged, it could be used as a representative of many creatures throughout the Early Paleozoic (including the Cambrian, Ordovician, and Silurian). Together with many other creatures, they jointly opened the prelude to the diversification of the earth into biodiversity Since then, a thriving biological world has really emerged. The number of trilobites decreased in the late Paleozoic with the emergence of a large number of marine invertebrates, and they finally became extinct when the Mesozoic came.
The trilobite lapel pin have the pretty nice design, black metal with soft enamel technology. All colors are made by injection with hand, head have the orange color, tail have the yellow colors. Soft enamel pins can be touch the high-low area not like hard enamel are flat. So many people are like this process, if you want to
custom pins
, please contact at any time. No design, no information about size, technoloy, plating colors are fine, just email or call, we can help.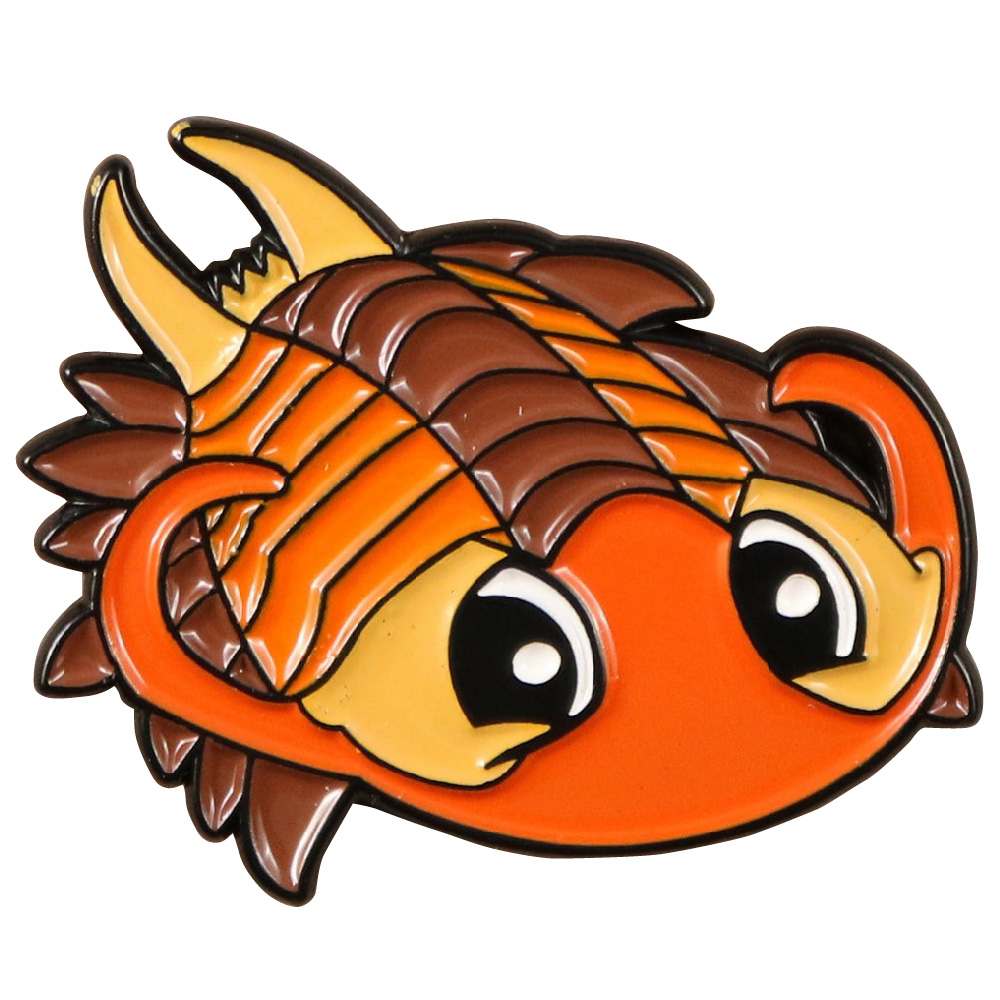 Here are the details:
1) Trilobite lapel pin
2) Zinc alloy
3) Size: 1.5" or custom size
4) Attachment: Rubbers or butterfly clutch
5) Production process: Die struck-polishing-black nickel plating-soft enamel
6) Minimum order: No Minimum (No MOQ)
7) Sampling time: 7 days
8) Delivery time: 10-15 days for 100-5000pcs
9) Packaging: Each into a free poly bag
10)Payment Terms: PayPal,T/T or Western Union