Goose is a herbivorous fowl, full of treasures, feathers are rich and gorgeous clothing, goose liver is delicious on the high table, goose meat is rich in nutrients, complete amino acids, fat is a single unsaturated fatty acid, the value is comparable to lamb, is high-end A must for restaurant.
As a common poultry, geese have special living habits, such as water-like, alertness, cold tolerance, and regularity of life. Goose has strong disease resistance and little pollution, and it is more and more popular as a green food.
Geese is waterfowl, are naturally water-loving. They spend 1/3 of their time in water every day like duck (
duck lapel pin
). They are used to playing, foraging, and courting in the water. Therefore, goose farms should be established in a wide-water environment with good water sources, especially in ditch , Lakes, rivers and other flowing waters are the best.
The goose lapel pins have the round shape with gold metal, white neck and body, yellow feet and mouth. All goose pins making with hard enamel, smooth surface and can be protect the enamel when wearing. People are love this advanced technology. Like a jade when you touch.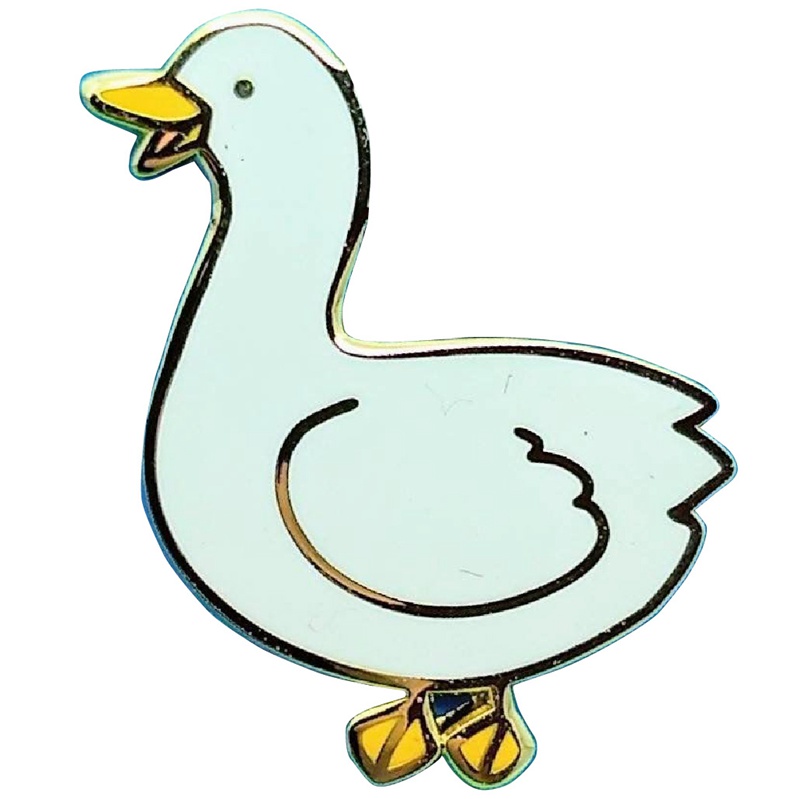 Here are the details:
1) Goose lapel pins
2) Iron/Bronze/Copper/Zinc alloy
3) Size: 1.5" or custom size
4) Attachment: Rubbers or butterfly clutch
5) Production process: Die struck-polishing-hard enamel-gold metal plating
6) Minimum order: No Minimum (No MOQ)
7) Sampling time: 7 days
8) Delivery time: 10-15 days for 100-5000pcs
9) Packaging: Each into a free poly bag
10)Payment Terms: PayPal,T/T or Western Union