Velociraptor means "Agile Thief" in Latin, and lived in the Late Cretaceous from 83 million to 70 million years ago. The model species of Velociraptor is Mongolian Velociraptor. Fossils are found in Mongolia and Inner Mongolia. The second species is Australoxaurus, named in 2008. The fossil is a skull found in Inner Mongolia, China.
Velociraptor is one of the most well-known dinosaurs in the general public, which is due to their eye-catching performance in Mike Clayton's novel "Jurassic Park" and the movie of the same name, but the novel and the movie The version has a wrong description of Velociraptor. For paleontologists, Velociraptor is an important dinosaur. More than 10 fossils of Velociraptors have been found, the largest number of Chironidae.
Velociraptors have quite long skulls up to 25 cm long; they have 26 to 28 teeth in their mouths with wide teeth spacing, and their brains are large, guessing that they should be a very intelligent dinosaur and active It is an excellent runner who can prey on fast-moving prey. Velociraptor's forearms are covered with feathers and will not fly. Maybe feathers can play some role in steering when they are running.
The velociraptors
enamel pin
have the flat design with soft enamel process, it's a raised and recessed metal with enamel filled. All pins enamel are made with man or auto machine when large quantity to make it faster. The velociraptors lapel pin have the cute design with simple blue, grey, white colors. Plating black nickel metal, shine with the light. Here are more dinosaurs lapel pin:
tyrannosaurus lapel pins
and
elasmosaurus lapel pins
.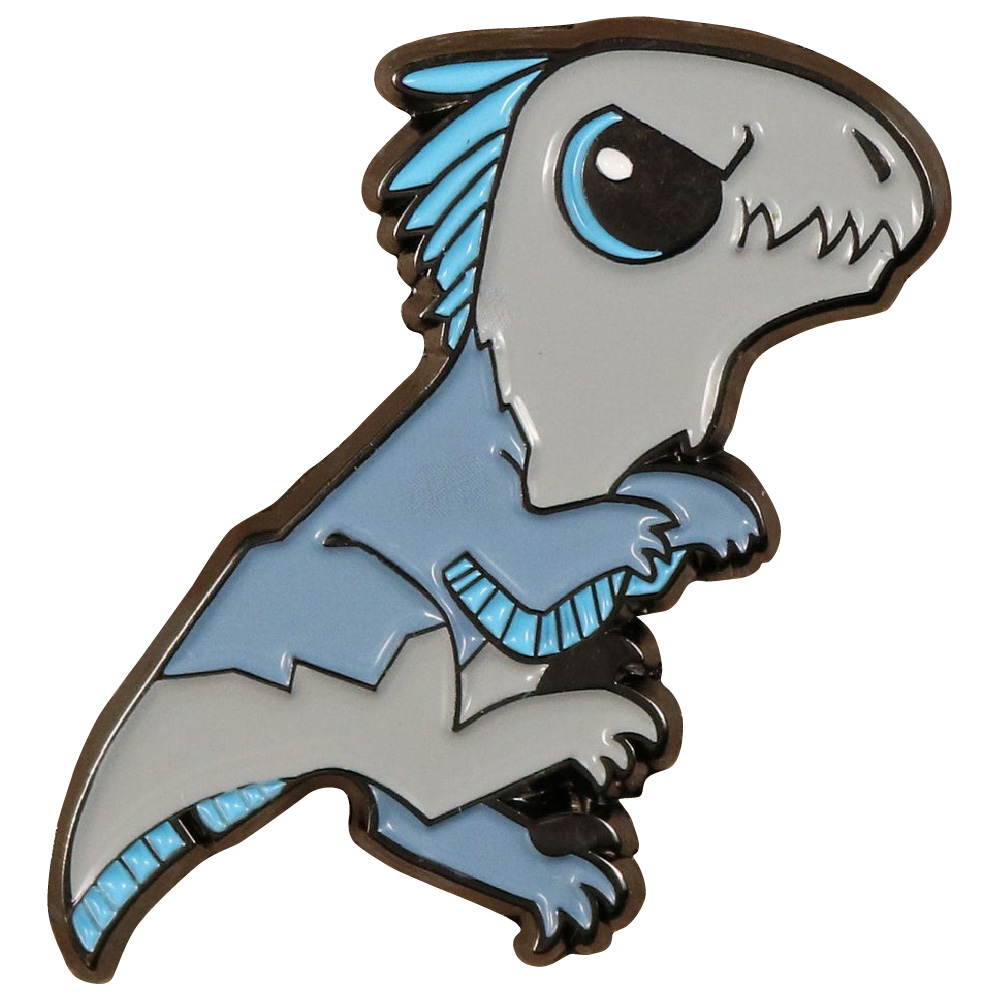 Here are the details:
1) Velociraptors enamel pins
2) Iron/Bronze/Copper/Zinc alloy
3) Size: 1.5" or custom size
4) Attachment: Rubbers or butterfly clutch
5) Production process: Die struck-polishing-black nickel plating-soft enamel
6) Minimum order: No Minimum (No MOQ)
7) Sampling time: 7 days
8) Delivery time: 10-15 days for 100-5000pcs
9) Packaging: Each into a free poly bag
10)Payment Terms: PayPal,T/T or Western Union