Wood Duck (Scientific name: Aix sponsa) is a small arboreal bird with bright colors from North America. The camp is nested in a tree hole 15 meters above the ground. The body is about 48 cm long, and both male and female have unique feather crowns. Can jump from the nest up to 15 meters to the ground. Chicks feed on aquatic insects and other small creatures, and adult birds prefer to eat acorns or other nuts. Distributed in Eurasia and northern Africa.
Wood ducks have a body length of 47-54 cm. The color difference between female and male feathers is large, the male duck is bright (especially during the breeding season), and the female duck is simple. Both males and females have unique crowns (the summer feathers have no crowns). The male bird's crest has two rows of white stripes, the head is purple and green, the chest is reddish brown with white spots, and the ribs are bronze. The female bird has white eye rings on its feathers, its body feathers are coal gray, its throat is white, and its chest has white stripes. The color of the feathers of baby birds is black and white, which is very different from the yellow baby birds of ordinary ducks.
Wood Duck is recognized as the most beautiful teal in North America. Because it is only found in the North American continent, it is called North American Duck. It means a beautiful water bird like a bride. Because they borrow trees to build their nests, they are called Wood Duck. Distributed in Canada (
Canada maple leaf pin
), Cuba, Mexico, Saint Pierre and Miquelon, and the United States.
The wood duck pin have the vivid design with wood duck, orange neck colors and most of the feather are white. Gray fooot and mouth. It's a normal but beautiful ainimal pin, the fat body seems more funny. You can image duck walking, custom your wood duck pin if you like it. I'm sure our quality and price will be pretty for you. Also there are many pins you can choose or
custom pins
as your's idea, photo or copy.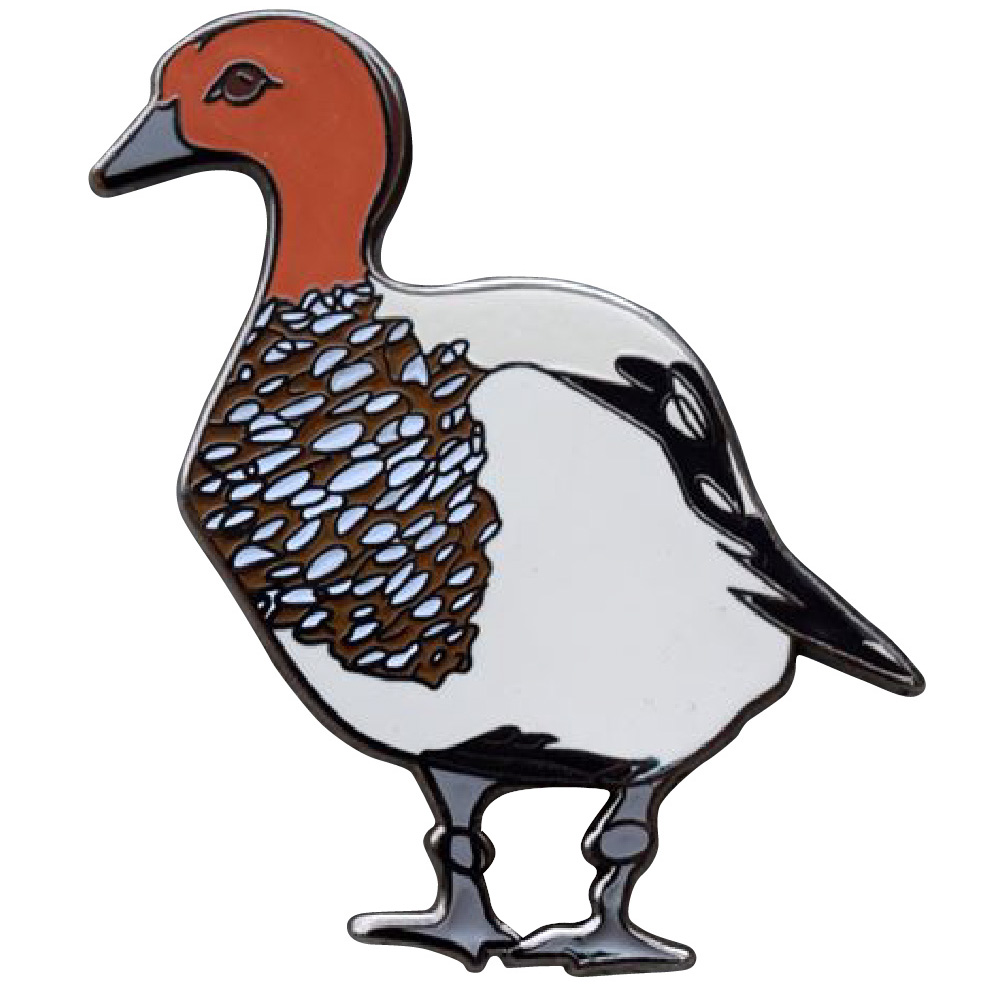 Here are the details:
1) Wood duck pins
2) Zinc alloy/Pewter alloy
3) Size: 1.5" or custom size
4) Attachment: Rubbers or butterfly clutch
5) Production process: Die casting-polishing-hard enamel-black nickel plating
6) Minimum order: No Minimum (No MOQ)
7) Sampling time: 7 days
8) Delivery time: 10-15 days for 100-5000pcs
9) Packaging: Each into a free poly bag
10)Payment Terms: PayPal,T/T or Western Union