Leaves are part of the tree for photosynthesis. Leaves can have a variety of shapes, sizes, colors and texture. Leaves can gather into a cluster, can also be scattered everywhere. The edge of the leaf can be smooth, it can be jagged. A complete leaf consists of the following three parts: leaves - mostly wide and flat, suitable for sun exposure. Petiole - support the leaves and connect the leaves to the stems.
Leaves are the main organs for plants to carry out photosynthesis and produce nutrients. Through the absorption of carbon dioxide, for the human release of oxygen (release: stomata), to provide food, shelter. Leaf photosynthesis is done through chloroplasts. Leaves red is due to increased anthocyanins, acid leaves will turn red. "Maple Leaf, Tallow Leaves, Persimmon Leaves" and so on. Leaves yellowing is due to chlorophyll damage, only lutein. Most of them are like, "Gui Ye Ye, Ginkgo biloba, Poplar leaves, Indus leaves" and so on. Leaves have rounded, elliptic, heart-shaped, palm-shaped, fan-shaped, rhombic, ovate, fish scales, spoon-shaped, triangular. Leaves is always stay with
flower pins
.
Here is the leaves lapel pin: six leaves on the branch, gold metal with leaf vein, colors of leaf is green and light blue. One little piece like you get a
gold pin
, really huge treasure. Take it in a nice box and it will looks more precious. Gold is the valuable all the time. This leaf pin making with hard enamel is very suitable. Similar plant pins is the
poppy lapel pins
.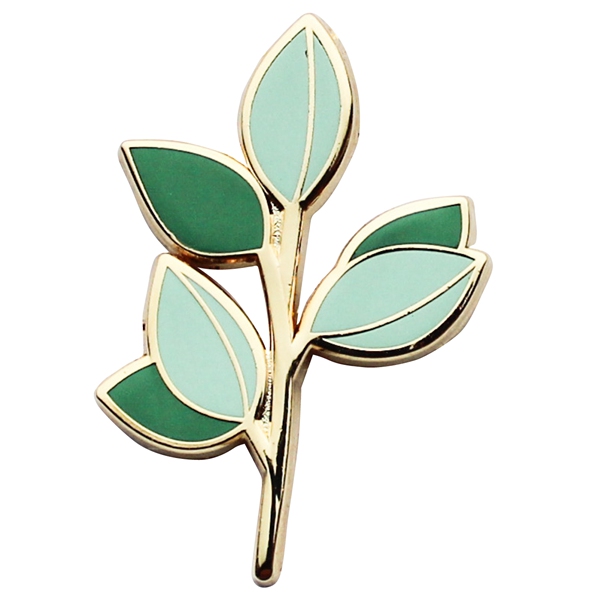 Below is the details:
1) Leaves lapel pins
2) Material: Zinc alloy
3) Size: 1.25" or custom size
4) Attachment: Butterfly clutch or rubbers
5) Production process: Die casting-hard enamel-gold plated
6) Minimum order: No MOQ
7) Sampling time: 7 days
8) Delivery time: 10-15 days for 100-5000pcs
9) Packaging: Each into a free poly bag
10)Payment Terms: T/T, Western Union, Paypal