Flowers (
flower lapel pins
) are herbs of ornamental value, is used to appreciate the plants collectively, like sun and cold-resistant, with reproductive function of the spur, there are many types. Flowers constitute with corolla, calyx, receptacle, stamens, there are a variety of colors, some looks very bright, fragrant.
In the narrow sense of the flowers such as phoenix, chrysanthemum, a string of red, cockscomb flowers etc ; generalized flowers including herbs or woody ground cover plants Shrubs, flowering trees and bonsai, etc., plum, peach, rose (
rose lapel pins
), camellia and other trees and shrubs and so on. Every year on February 14, usually in Valentine's Day, to give a red rose to express the feelings between lovers.
The flower is a beautiful symbol that represents the good and the hope that the flower is so loved by the people that are loved because it is worth it. It can make people recover from the sadness, from disheartened to full of hope, from knowing what to go forward. We have been spent to melt, it gave us too much, we have to love flowers and plants, so that they better serve people.
This flower pins five star (
five star pins
) design, different colors each side with dark red, green, yellow green, red and black. Background is white, center is five heart pink connected each other. Edge is little round circle top, then a big "M". Lines portray this flower pins, so die struck is OK, can be thin and light.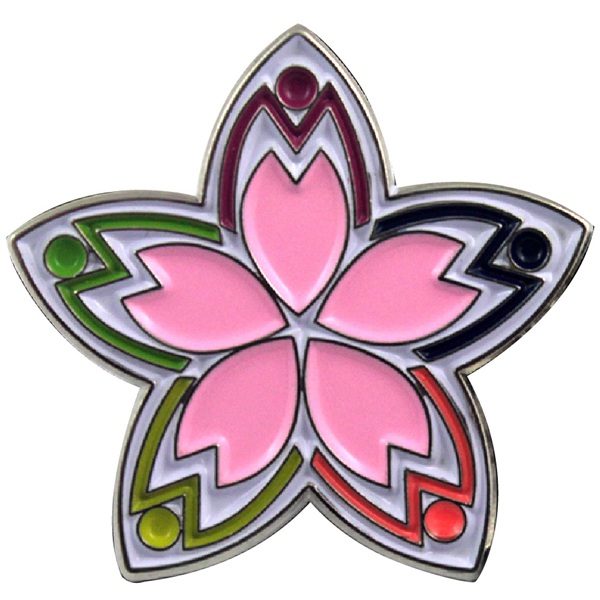 Below is the details:
1) Flower pins
2) Material: Iron/Bronze
3) Size: 1" or custom size
4) Attachment: Butterfly clutch or rubbers
5) Production process: Die stamping-plating-soft enamel
6) Minimum order: No MOQ
7) Sampling time: 7 days
8) Delivery time: 10-15 days for 100-5000pcs
9) Packaging: Each into a free poly bag
10)Payment Terms: T/T, Western Union, Paypal