Poppy is the main raw material for opium. Alias: opium flowers, dancing grass, better peony, hero flowers, flowers bright, rich aroma, is one of the world's most beautiful flowers. A symbol of the twelve constellations in the Scorpio, native to Asia Minor, India and Iran. The flowers are large and bright, with red, purple, white, open up, after the fall of red to bear the fruit full of poisonous juice.
Poppy adaptability is very strong, from the southernmost tip of Africa to the north of the earth, it can grow. It contains morphine, cocaine and other substances, excessive consumption after the addiction, but also a valuable ornamental plants. In Europe and the United States, it has a sacrifice, love, respect and miss the symbolic meaning. Britain has two festivals to commemorate the death of soldiers, the first is the November 11 "war truce", the second is November 11 after the first Monday "Memorial Day". Britain will hold a parade, each of which will put a poppy wreath on the monument to the war and be silent for 2 minutes. The choice of poppy flowers, because from 1915 to 1917, hundreds of thousands of British soldiers died in Flanders of the Iraqi Er, after the war out of a lot of poppy flowers, so the British chose to wear such flowers Memorial to the dead, which is to make people do not forget the lost life in the war.
Big and bright red is the famous name for poppy, here is the poppy lapel pins: gold metal with four red petal, center is the black round stamen. Some small gold lines disperse inner. Hard enamel process is the best quality for poppy pins, it's one of the
flower pins
.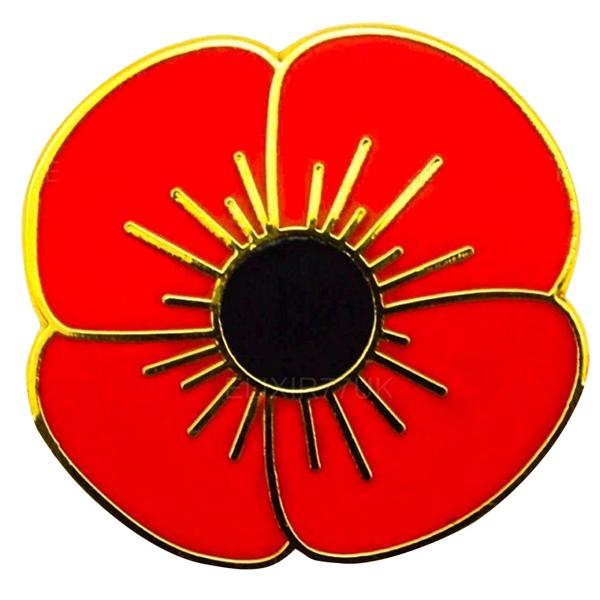 Below is the details:
1) Poppy lapel pins
2) Material: Iron/Bronze
3) Size: 1.25" or custom size
4) Attachment: Butterfly clutch or rubbers
5) Production process: Die stamping-hard enamel-gold plating
6) Minimum order: No MOQ
7) Sampling time: 7 days
8) Delivery time: 10-15 days for 100-5000pcs
9) Packaging: Each into a free poly bag
10)Payment Terms: T/T, Western Union, Paypal