Deer have different sizes, commonly male has a diagonal female not. Most of them live in the forest, eating tree buds and leaves. Deer distribution in the Americas and in most parts of the Eurasian continent. Sika deer's antler is expensive Chinese herbal medicines. Generally have characteristics: slender limbs, shorter tail, male body type is larger than the female.

Antlers will be shed every year, and subsequently give birth to the new. The entire shedding process only need 2-3 weeks can be completed the regeneration stage occurs in the summer. Unlike horns, not hollow but contain the seed of bone tissue. The role of deer blood: blood and beauty: a significant role in replenishing anemia, pale and haggard face regain rosy.

Do you like deer? You will be have the mould, photo, picture or crafts if you love it. Here we would like introduce the deer lapel pin to you: orange body, white hair and black mouth color of enamel process. Gold plating with the whole hard enamel pins. Standing style, watching something further. Take one if you like it, here is other animal pins: dog pins, dove lapel pins and lion lapel pin.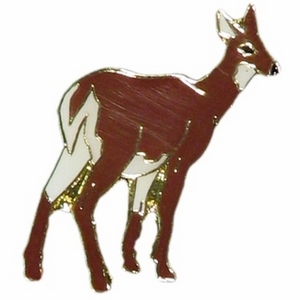 Below is the detail:
1) Deer lapel pins
2) Material: Iron/Bronze
3) Size: 1" or custom size
4) Attachment: Butterfly clutch
5) Production process: Die struck-cutting-enamel
6) Minimum order: 1 piece
7) Sampling time: 7 days
8) Delivery time: 10-15 days for 1000-5000pcs
9) Packaging: Each into a free oppbag
10)Payment Terms: T/T, Western Union, Paypal