The Army is a multi-branch, multi-system and multi-layered organic combination of whole, with a strong fire, the assault force and a high degree of mobility. Joint operations of both independent operations, but also with other services. Army by many countries constitute more than five branches of the military and support units, each of arms by the different levels, many types of its units.

United States Army, is an integral part of the U.S. armed forces, mainly responsible for land-based combat. It was established in June 14, 1775, the U.S. Army then the nature of the tasks divided into the combat arms, combat support arms and combat service support arms. In 1918, the U.S. Army has only the so-called federal army. During the First World War, the United States National Army was able to officially formed in recent decades, the U.S. Army is divided into the regular army and reserve.

Above is the introduction about army. When army man take the or retired, soldiers can get the souvenir: army lapel pins or army challenge coins. This is the unforgettable gifts from army. Here is the military lapel pins and award lapel pins. Below this one is the normal pins: silver color based and the logo of US army, color filled. With the words of: "UNITED STATES OF AMERICA" and "DEPARTMENT OF THE ARMY". Wish I can wear it one day.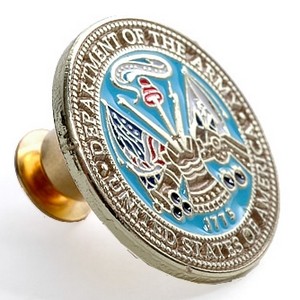 Below is the detailed specification:
1) Army lapel pins
2) Material: Iron/bronze
3) Size: Diameter 1" or custom size
4) Attachment: Butterfly clutch
5) Production process: Die struck-polishing-plated-soft enamel
6) Minimum order: No MOQ
7) Sampling time: 7 days
8) Delivery time: 8-15 days for 100-10000pcs
9) Packaging: Each into a free OPP bag
10)Payment Terms: T/T, Western Union, Paypal