Army•MARINE CORPS•NAVY•AIR FORCE•COAST GUARD, ARIZONA DEPARTMENT OF VETERANS' SERVICES. These are the memory words, it can related many many stories. When army man services in the army, they will be young. But when retired, they are mature or older.

There must be some commemorative things with everyone. Challenge coin is the best choice, it's popular and valuable. Some coins are appreciate for long years.Everyone has it's history, armies have it also. We can save it with books, diaries, photos, videos or some others. But army challenge coins are the traditional souvenir.

This army challenge coin made of brass. With high quality of soft enamel, with symbol of eagle, American flag and stars. Size of 38.1mm. Polishing on surface, very beautiful and nice! There are many gifts you can chose here, Army lapel pins, police challenge coins and Coast Guard challenge coins. We will give the best for you after your choose.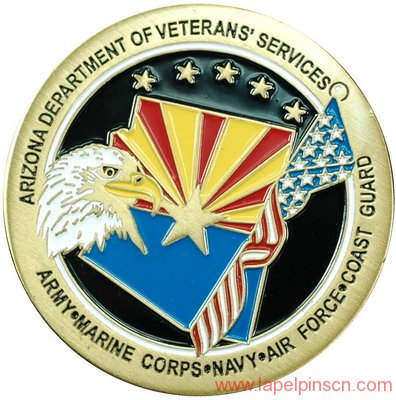 Below is the infomation:
1) Army challenge coins
2) Material: Iron/ bronze
3) Size: Diameter 1 3/4" or custom size
4) Plating color: Bronze
5) Production process: Stamping-plating-enamel
6) Minimum order: No MOQ
7) Sampling time: 9 days
8) Delivery time: 9-15 days for 100-5000 pcs
9) Packaging: Each into a free poly bag
10)Payment Terms: T/T, Western Union, Paypal