Challenge Coins are made for army, plice mainly. These are the people who protect the people's security. We are called the most lovable person in china. They are slefless, responsible and consecratory. So many departments are made many various challenge coins to commemorate their contribute.

It contains Military Challenge Coins, Navy Challenge Coins, air force challenge coin, army challenge coin, police challenge coin and many other. Further more these coins are produce for history, event or people. They represent the witness of human history. Most made of brass, less of silver or gold. Brass can produce easily, and very high quality. Plice challenge coins for sale, you can buy in our website:http://www.lapelpinscn.com. Or custom the special one with yourself, any design, any size and color.

Below this one background is the United States falg (US flag pins), and two shields on it. One is police badge with words: "DEPARTMENT OF DEFENSE ANNAPOLIS MARYLAND" AND "UNITED STATES, NAVAL ACADEMY, TO PROTECT&TO SERVES, EMERGENCY COMMUNICATIONS POLICE FIRE EMS".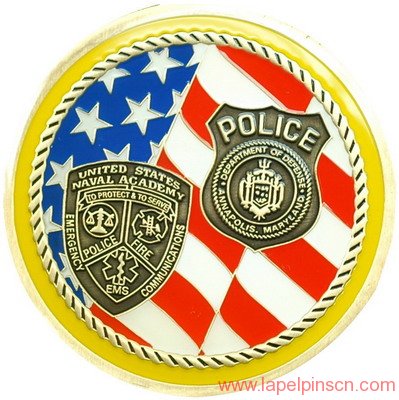 Below is the infomation:
1) Police challenge coins
2) Material: Iron/ bronze
3) Size: Diameter 1 3/4" or custom size
4) Plating color: Gold
5) Production process: Stamping-plating
6) Minimum order: No MOQ
7) Sampling time: 9 days
8) Delivery time: 10-15 days for 500-5000 pcs
9) Packaging: Each into a free poly bag
10)Payment Terms: T/T, Western Union, Paypal