Challenge coins have been accepted by friends from all levels, whether adults or students. They are like it, having one own challenge coins is a very good collection. Coin as a promotional souvenirs or event commemorative things, are all good choices. From the design, challenge coins is a client customized products. Can follow the wishes of our customers to design. From the shape, color plating, surface patterns, and packaging are the DIY's. 100% reflects the individual. Non-mainstream era of this age, so not everyone is the same coin.

Challenge coins material can be copper, iron, zinc alloy or precious metals gold and silver. Design can be 2D or three-dimensional, the price is relative little different, mainly difference between the mold. Process, generally are based on soft enamel. Of course, there are printing, or stamping coins. The challenge coins manufacturer will choose high-end cloisonne enamel or imitation enamel. Quality is very good, of course, prices are expensive. Packaging, generally free of opp bag, or transparent plastic boxes, high-end point can choose velvet box or a wooden box.

From the material to the process, the packaging can design their own. Therefore the coin is to give customers more choose to produce their favorite products of challenge coin company. Fully reflects the unique, personalized and special. So challenge coin design is easy tand can be coordinated to complement an existing award program.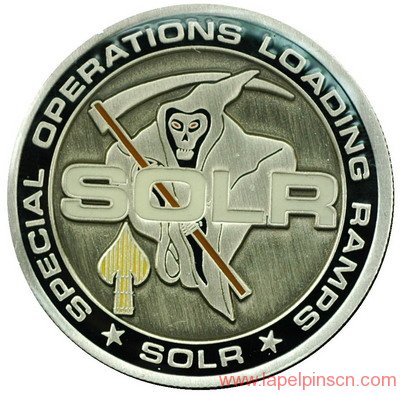 Below is the infomation:
1) Challenge coins design
2) Material: Iron/ bronze
3) Size: Diameter 1 3/4" or custom size
4) Plating color: Anti-nickel
5) Production process: Stamping-plating-enamel
6) Minimum order: No MOQ
7) Sampling time: 9 days
8) Delivery time: 9-15 days for 100-5000 pcs
9) Packaging: Each into a free poly bag
10)Payment Terms: T/T, Western Union, Paypal