Air force full name is United States Air Force(USAF).It is the aerial warfare service branch of the United States Armed Forces and one of the American uniformed services.The newest Slogans and creeds,as of October 7, 2010, considered a call and response, "Aim high" followed with the response, "Fly-Fight-Win" Each wing, group, or squadron usually has its own slogan(s). Information and logos can usually be found on the wing, group, or squadron websites.

When flying in the air,how could you feel?Protect your country with the airplane,very pride and achievability.So one magic thing is you can get one air force challenge coin after you are a airman.And we have introduce the USAF challenge coin and USMC challenge coin before.It will be your unforgettable things in your life.

This air force challenge coin is made up of bronze, also air forces lapel pin.Words with "6TH AIR MOBILITY WING" and "MACDILL AFB•FL",back with "UNITED STATES" and "AIR FORCE".Matt effect in the middle.Color with soft enamel,big logo of back.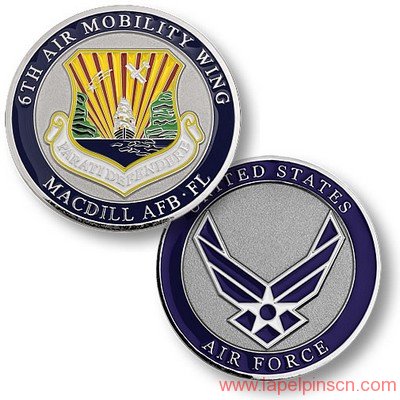 Below is the detailed specification:
1) Air force challenge coins
2) Material: Bronze
3) Size: 1.75"
4) Plating color:Nickel
5) Production process:Die struck+soft enamel
6) Minimum order: No MOQ
7) Sampling time: 7 days
8) Delivery time: 8-18 days for 100-5000 pcs
9) Packaging: Each into a free OPP bag
10)Payment Terms: T/T,Western Union,Paypal