A military is an organization authorized by its greater society to use lethal force, usually including use of weapons, in defending its country by combating actual or perceived threats.Which is often referred to as the military "strength", is arguably one of the most complex activities known to humanity.Millions and millions people were join up the military.Working with their national,country.

This is the most glory time.They are spend the youth and time with motherland.Respectable and powerfully,when they in the service of army,will get some award.Even the retire,get one award challenge coin or lapel pins is needed.Can be existing long time,and be some memory in it.

This military award lapel pins made with iron of stamping pins. Words with "UNITED STATES" and "MARINE CORPS", one big logo in middle. Red in center and blue round edge. Similar with military lapel pin.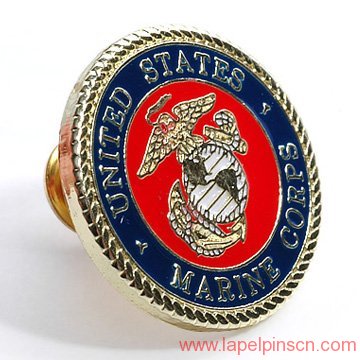 Below is the detailed specification:
1) Military award lapel pin
2) Material: Iron
3) Size: Custom size
4) Plating color:Gold
5) Production process:Die struck+soft enamel
6) Minimum order: No MOQ
7) Sampling time: 7 days
8) Delivery time: 8-15 days for 100-5000pcs
9) Packaging: Each into a free OPP bag
10)Payment Terms: T/T,Western Union,Paypal