Canada Goose is a medium-sized body, a typical cold water marine bird (
bird lapel pins
), resistant to severe cold, and likes to inhabit bays, seaports and estuaries. Sometimes the flight is oblique, sometimes it is V-shaped and very irregular. It mainly feeds on the tender shoots, leaves and stems of grasses or aquatic plants. Canada Goose also eats roots and plant seeds. In winter, it sometimes eats young crops such as wheat seedlings. Migration often integrates large groups, flying during the day, landing in lakes and other waters in the evening to rest and forage, often making high noises and extremely noisy. Distributed in North America. Canada Goose is the national bird of Canada.
Canada Goose (
Canada flag pins
) is the largest goose-shaped species in the world. Body length is 90-100 cm, wingspan is 160-175 cm, weight is 4300-5000 grams, and life span is 24 years. Body gray. The head and neck are black, the tail is short, black, and the tail is covered with white feathers. Lower abdomen and undertail feathers white. This species is native to North America and Europe. In addition to feeding the head and neck into the water in general, they can also eat underwater food like some ducks in the shallow water with their tails facing up.
The Canada Goose lapel pins have two Canada Goose pins, are made with 3D design. Left one is little bigger, so the details are much more. The wings, the feather, head, eyes are close to the real flying one, made with gold plating with 3D metallic. Right one also 3D shape, details are little less, but plating with antique gold.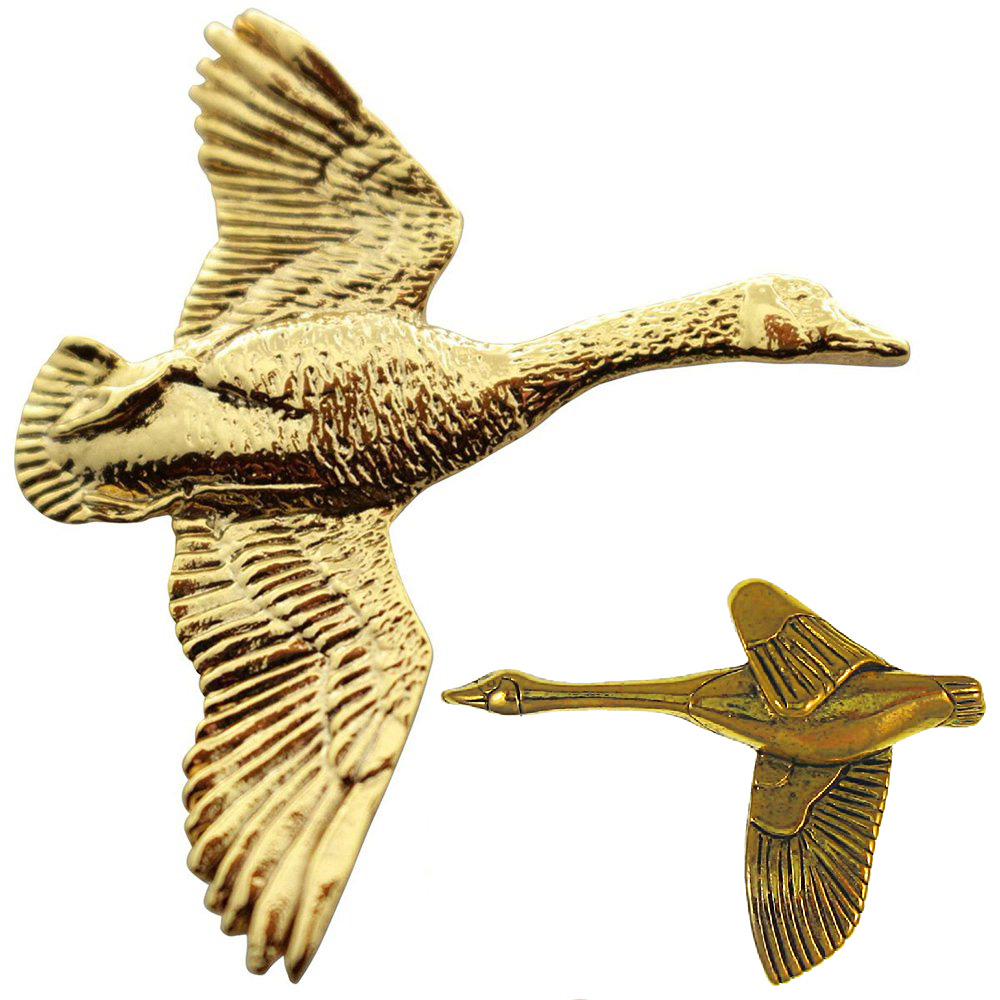 Here are the details:
1) Canada Goose lapel pins
2) Zinc alloy/pewter alloy
3) Size: 1.5" or custom size
4) Attachment: Rubbers or butterfly clutch
5) Production process: Die casting-polishing-plating
6) Minimum order: No Minimum (No MOQ)
7) Sampling time: 7 days
8) Delivery time: 10-15 days for 100-5000pcs
9) Packaging: Each into a free poly bag
10)Payment Terms: PayPal,T/T or Western Union