A wrench is a commonly used installation and removal tool. It is a hand tool that uses the principle of leverage to turn bolts, screws, nuts, and other threads to hold the openings or sleeve holes of bolts or nuts. Wrenches are usually made of structural steel made of carbon or alloy. The wrench usually has an opening or a sleeve hole for holding a bolt or a nut at one or both ends of the handle. When using the wrench, an external force is applied to the handle along the direction of thread rotation to turn the bolt or nut. There are basically two types of wrenches, dead wrenches and adjustable wrenches. The former refers to a wrench that has a fixed number written on it, and the latter is an adjustable wrench.
Use of manual wrench: 1. Select the appropriate wrench according to the characteristics of the fastened fastener. 2. Tighten, hold the end of the wrench handle with your hand, and tighten firmly clockwise; loosen, and turn counterclockwise. Features of manual wrench: simple operation, low price and high labor intensity.
This wrench lapel pin seems a real wrench, two sides the steady area for screw. Center words:"DROP FORGET", means pass all the past, coming in the future with a new face and spirit. The strong design and thickness, so it can be used in our life. All wrench pin are making gold plating. Here are more life pins:
hammer lapel pin
.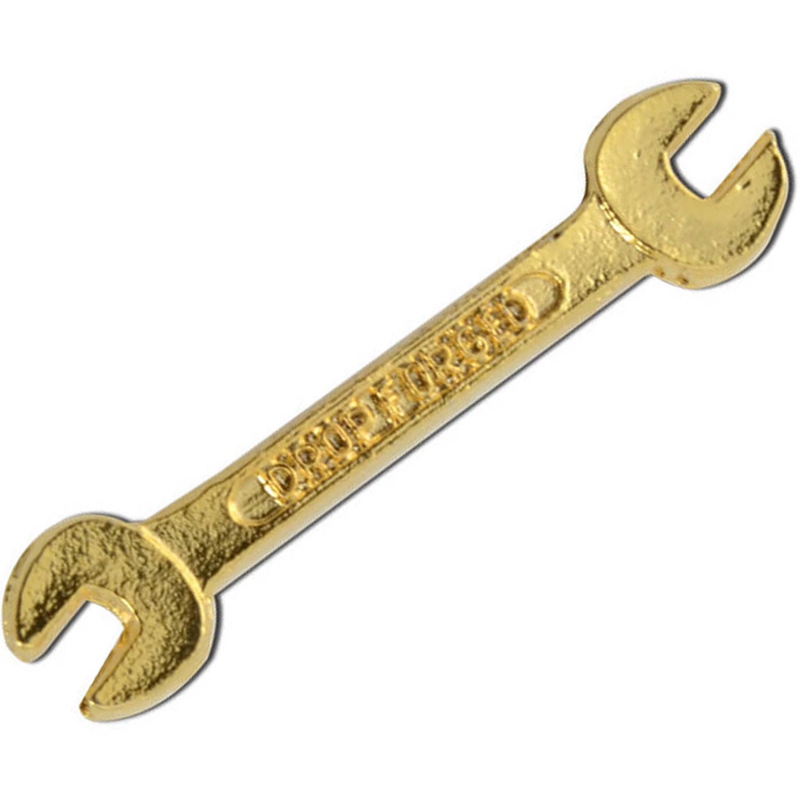 Here are the details:
1) Screw lapel pin
2) Zinc alloy/Pewter alloy
3) Size: 1.5" or custom size
4) Attachment: Rubbers or butterfly clutch
5) Production process: Die casting-polishing-gold plating
6) Minimum order: No Minimum (No MOQ)
7) Sampling time: 7 days
8) Delivery time: 10-15 days for 100-5000pcs
9) Packaging: Each into a free poly bag
10)Payment Terms: PayPal,T/T or Western Union