Mule deer also known as "Four Dislikes", is a rare animal in the world. Because its head and face resemble a horse, its horns resemble a deer, its neck resemble a camel, and its tail resemble a donkey. Body length 170-217 cm, tail length 60-75 cm. The mule deer generally weighs 120-180 kg and has long horns. Female mule deer have no horns and are smaller. The mule deer horns are special in shape and have no eyebrows.
It is native to swamps in the middle and lower reaches of the Yangtze River in China, and uses grass and waterweed as food. Good sex, good swimming, like to feed on tender grass and aquatic plants. Once widespread in East Asia. On August 14, 1986, with the joint efforts of the World Wildlife Fund and the Chinese Ministry of Forestry, 39 mule deer from seven British zoos returned to their hometown, Dafeng City, Jiangsu province, and were stocked in the Dafeng City mule deer Reserve.
This mule deer lapel pin have the beautiful 3D design, all gold plating, the metal texture are pretty good. The long horns are nice three-dimensional making. The ear, eyes and mouth are made too. The face and neck have small dots on. Here is the similar pins:
lion lapel pins
and
deer hear lapel pins
.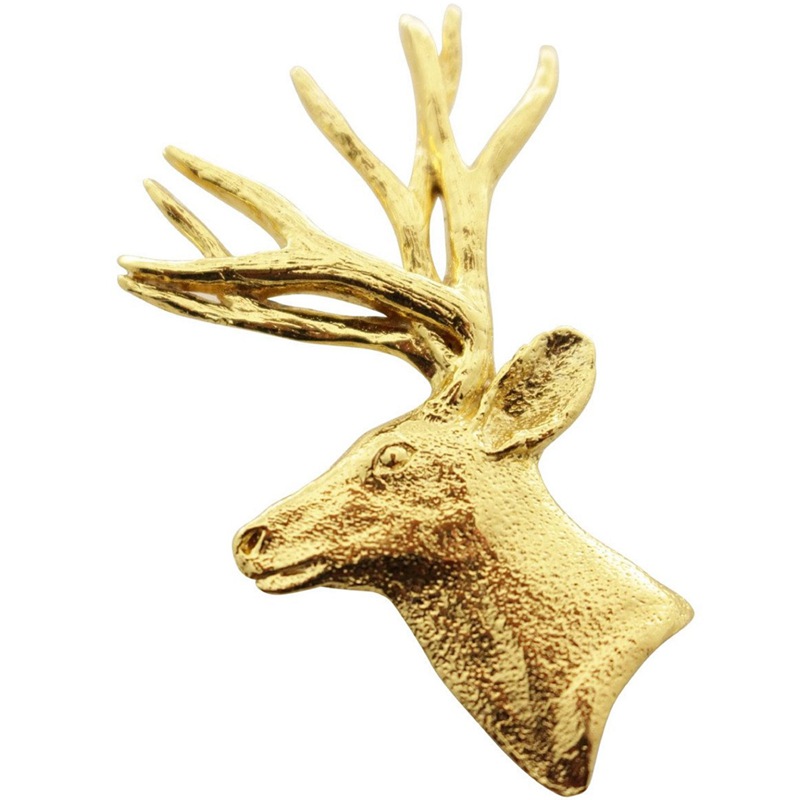 Here are the details:
1) Mule deer lapel pin
2) Zinc alloy/Pewter alloy
3) Size: 1.5" or custom size
4) Attachment: Rubbers or butterfly clutch
5) Production process: Die casting-polishing-gold plating
6) Minimum order: No Minimum (No MOQ)
7) Sampling time: 7 days
8) Delivery time: 10-15 days for 100-5000pcs
9) Packaging: Each into a free poly bag
10)Payment Terms: PayPal,T/T or Western Union