The American crocodile is a crocodile of the genus Crocodylus. Body length: 3-4.8 meters in length and 200-900 kg in weight. It is a large crocodile in the entire South American continent, the Mexican lowlands and Central America. Alligator inhabit the wetlands of mangroves, swamps, etc. at the junction of salty and fresh water. The main food is fish, but also birds (
bird lapel pins
), mammals, turtles, crabs, frogs (
frog pins
), and occasionally carrion.
The alligator 's tail is thick and strong, and the back and tail are full of scale armor. Alligator often appear in bays, rivers, and lakes. When on land, the American crocodile can either advance with its belly or walk with its feet; while in the water, it swims by moving its body and swinging its tail. The American crocodile has high temperature requirements, below 7.2. Stay in C's environment for a while and the alligator will die. Alligator usually relies on birds to clean itself from parasites. Interestingly, alligator relies on fishes to clean itself from parasites.
This alligator lapel pin have the whole design made, the texture are very nice, seems a real little alligator. The antique gold plating, the recessed metal have the dark color. Open his mouth, very terrible action. Whole pins polishing well. It's a best alligator pin if you are a alligator fans.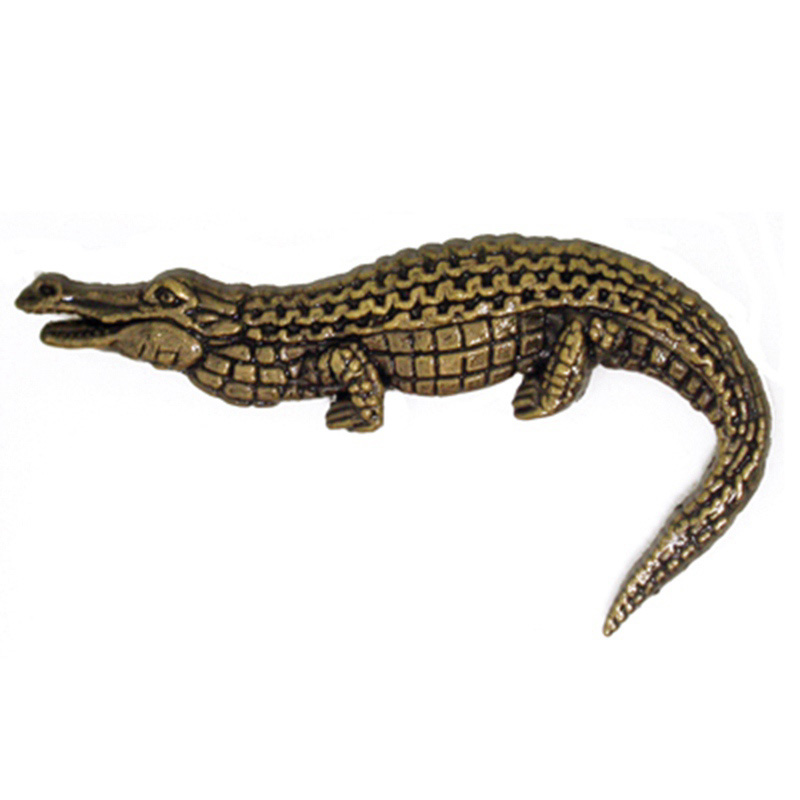 Here are the details:
1) Alligator lapel pins
2) Zinc alloy/Pewter alloy
3) Size: 1.5" or custom size
4) Attachment: Rubbers or butterfly clutch
5) Production process: Die casting-polishing-antique gold plating
6) Minimum order: No Minimum (No MOQ)
7) Sampling time: 7 days
8) Delivery time: 10-15 days for 100-5000pcs
9) Packaging: Each into a free poly bag
10)Payment Terms: PayPal,T/T or Western Union