"WALL·E" is a 2008 science fiction animated film directed by Andrew Stanton. Produced by Pixar Animation Studio, Walt Disney Film Studio is responsible for distribution. The film was released in the United States on June 27, 2008. The story tells the story of a sweeping robot on the earth that meets the love of the robot Eva and follows her into the space adventure. The film's global box office totaled more than $530 million and won the 81st Oscar for Best Animated Feature Film.
WALL-E is a fictional character in the movie "WALL·E" and is also the protagonist of the film (
Clapperboard lapel pin
). He is a fictional model of the WALL-E (Waste Allocation Load Lifter Earth Class). Later, he fell in love with the new-shaped alien plant detection robot Eve (EVE, Extraterrestrial Vegetation). Evaluator, but is called Eva by WALL-E.
WALL-E is the last robot on Earth to collect and compress garbage on Earth. WALL-E is a solar-powered robot with a laser cutter between the eyes. In the event of a malfunction, he will get replacement parts from other scrapped robots. After 700 years, WALL-E encountered a small trouble that could not be solved. It was beginning to be self-aware, became extremely curious and felt a little lonely, and had to accompany his pet. Once, through music, he learned about the existence and expression of love and emotional communication. Therefore, he began to have his own dream, that is, to find the object of this emotional interaction, and to bring her hand.
The WALL-E lapel pins have the cute shape and colors, center yellow body and orange back. The dark and light blue track. The lovely eyes small blue in it. The robotic arms hole a brown shoes which the green in it. It's the hope in the earth, seems it's suitable for living. Here is the
UFO lapel pins
.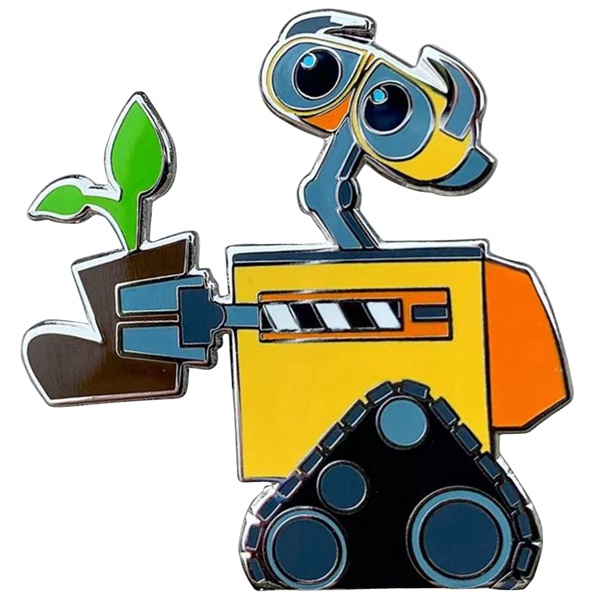 Here is the details:
1) WALL-E lapel pins
2) Material: Zinc alloy
3) Size: 1.25" or custom size
4) Attachment: Butterfly clutch or rubbers (black,yellow or red)
5) Production process: Die casting-polishing-hard enamel-silver plating
6) Minimum order: No Minimum (No MOQ)
7) Sampling time: 7 days
8) Delivery time: 10-15 days for 100-5000pcs
9) Packaging: Each into a free poly bag
10)Payment Terms: T/T Western Union Paypal