The film is divided into a number of scenes and shoot hundreds of shots can not press the lens when shooting sequence, therefore, we need to be distinguished by continuity and clapperboard. Contribute to convergence between film each shot, the director and Bupai continue shooting, editing, dubbing, photofinishing provide accurate data and information.
First of all the content on board recorded this video below, the number of shots, the director's work logs above are recorded in accordance with the content "XX Field X screen shot through," and then in the latter part of the clip when taken out of movie locate each "playing board" camera, see above record selection, splicing.
"Knock" is also about the role of the movie's content is not just an image, and sound, knocking it about the sound of the voice and filming the scene rather special compared easily be noticed, is also used as "index "Use. This clapperboard lapel pins made with iron, nickel silver plating, "BEST PICTURE SHOWCASE", "2014", "24 Hours,9 Movies,No mercy", "March 1.2014 NYC". Only black and white colors on.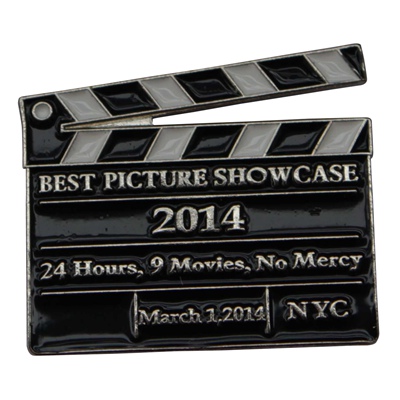 Below is the detailed specification:
1) Clapperboard lapel pins
2) Material: Iron
3) Size: 1.25" or custom size
4) Attachment: Butterfly clutch
5) Production process: Stamping-polish-soft enamel-nickel silver plating
6) Minimum order: No MOQ
7) Sampling time: 7 days
8) Delivery time: 8-15 days for 100-10000pcs
9) Packaging: Each into a free poly bag
10)Payment Terms: T/T, Western Union, Paypal