The elections are the main form of democracy, democracy largely depends on the elections, democratic elections are not the only form of election is the same as democracy is a mechanistic understanding. The vote is the electoral use of the right to vote one way, where voters to choose the person's name written on the ticket, or to make a mark in the printed names of candidates on the ballot paper into the ballot box.

Vote is a method for a group such as a meeting or an electorate to make a decision or express an opinion—often following discussions, debates, or election campaigns. In a representative democracy voting is the method by which the electorate appoints its representatives in its government. A vote is a formal expression of an individual's choice in voting, for or against some motion, for a certain candidate, a selection of candidates, or a political party.

So take one vote lapel pin when you take the political campaign is needed. In other words people is known what are you doning now. The man you support and the side you insisted. Function related with the political lapel pins. And this vote pins is round shape as military lapel pins, also have the words: "VOTE" and five stars on top and another at the bottom. Silver plating and soft enamel filled four colors: "white, black, red and blue."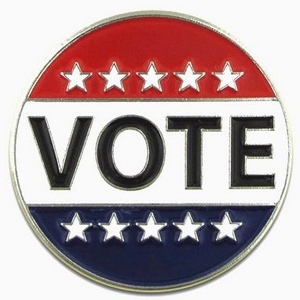 Below is the detailed specification:
1) Vote lapel pins
2) Material: Iron/bronze
3) Size: Diameter 1" or custom size
4) Attachment: Butterfly clutch
5) Production process: Stamping-enamel-plated
6) Minimum order: No MOQ
7) Sampling time: 7 days
8) Delivery time: 10-18 days for 1000-5000pcs
9) Packaging: Each into a free poly bag
10)Payment Terms: T/T, Western Union, Paypal