Umbrella is a shade or shade rain, snow tools. General use oil paper, tarpaulin or plastic cloth made. Umbrella from Latin Umbra, shade, shadow meaning. Umbrella materials often include malleable fabrics, and other materials and wraps that can be used as skeletons. It is lifted by hand when it is used. Although the main purpose of the umbrella was to block the sun when it was first invented, it is now used as a rainy day tool. Other functions of the umbrella include as decorative objects, walking sticks and even weapons.
China is the first country in the world to invent an umbrella, at least 3,500 years of history from the date of its invention. In the UK (
UK flag pins
), umbrellas began to be used only in the 18th century. Bai Nasi umbrella was a woman's specialty, said a woman's attitude towards love. Erect the umbrella, said the love to be faithful; left holding an open umbrella, said, "I do not have free time." Slowly shaking the umbrella, said no confidence or trust; the umbrella on the right shoulder, that do not want to see you again.
The yellow umbrella lapel pins is the antique design with little hook bottom, but with modern colors yellow top with black metal lines. Four parts front the pins, radian down. Pretty shape seems you are in the rain, shinny color. Umbrella pins and
handbags pins
are loved by girls.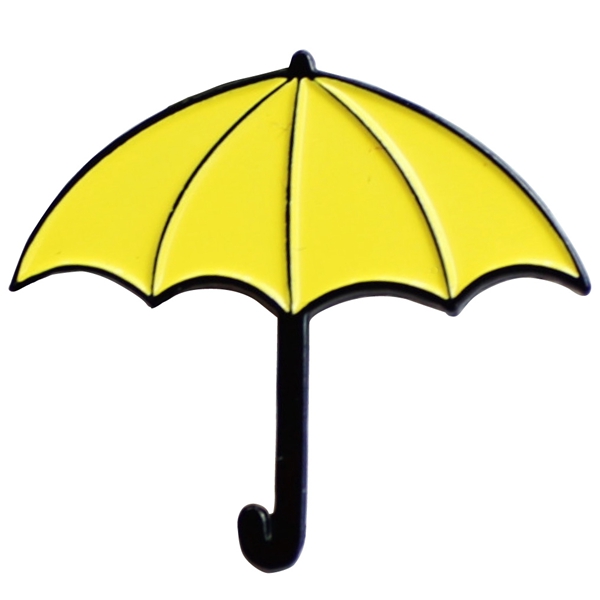 Below is the details:
1) Umbrella lapel pins
2) Material: Iron/bronze
3) Size: 1.25" or custom size
4) Attachment: Butterfly clutch or rubbers
5) Production process: Die struck-polishing-black metal-soft enamel
6) Minimum order: No Minimum (No MOQ)
7) Sampling time: 7 days
8) Delivery time: 10-15 days for 100-5000pcs
9) Packaging: Each into a free poly bag
10)Payment Terms: T/T, Western Union, Paypal