Handbags originated in the early 16th century, when European royalty popular with dance. Aristocratic lady and ladies want carry rouge and lipstick, ask the tailor make a delicate small pockets, small size but unique, and can only be hung on the wrist, it will not affect their dance.
Handbag design, important with three points: first of all, what's the performance of the brand's temperament, simple style of fashion or traditional? Second, how to reflect the brand LOGO, advertisement, design and font design integration; third: bag of materials, specifications, and crafts.
Handbags is so popular with people, especially girls and women. Many of them are spend lots of money and time on handbags, choose, look, contrast. Girls are have more than one handbags, different season, style and color bags. It's knowledge. Here we take a normal and simple handbags lapel pins: small black round design, white color filled between them. Close to square and top handle, whole pins with nickel silver plating. It's so small no more than 2 inch.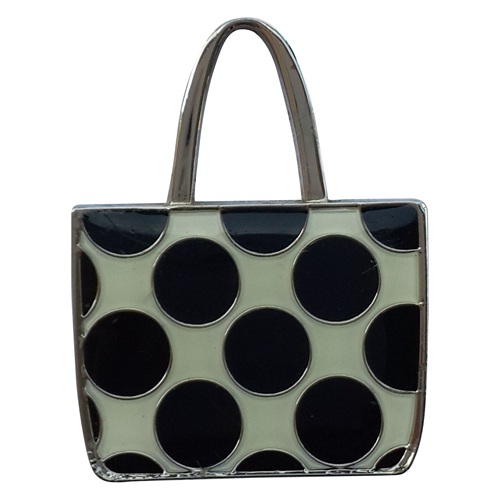 Below is the detailed specification:
1) Handbags lapel pins
2) Material: Zinc alloy
3) Size: 1.5" or custom size
4) Attachment: Butterfly clutch
5) Production process: Die casting-plating-soft enamel
6) Minimum order: No MOQ
7) Sampling time: 7 days
8) Delivery time: 10-15 days for 1000-5000pcs
9) Packaging: Each into a free poly bag
10)Payment Terms: T/T, Western Union, Paypal