Sunflower (Latin: Helianthus annuus L.), an annual herb of the Asteraceae genus. High 1 ~ 3.5 meters. Stems erect, rounded, angular, hard white hairy. Broadly ovoid leaves usually alternate, apex acute or acuminate, base 3-veined, margin serrulate, coarse on both surfaces, fur, long-handled. Head flowers, 10 to 30 cm in diameter, solitary in stem or shoot. Summer flowering, oval achene, peel lignification, gray or black, said sunflower seeds.
Native to South America, domesticated species was brought by Spaniards (
Spain flag pins
) from North America to Europe in 1510, initially for ornamental purposes. At the end of the 19th century, it was led back to North America from Russia. China has cultivated. Sunflower seeds called sunflower seeds, often after frying food as a snack, delicious, you can also squeeze sunflower oil for consumption, oil residue can do feed. Sunflower Festival is held from November 1 to December 31 every year in full sunflower blossom and is one of Thailand's top attractions. . Russia's national flower still as sunflower.
The sunflower lapel pins: main color is the yellow, also have orange and blue, they are interval each other. The leaves (
leaves lapel pins
) are green with real sunflower, the designer making this one, may be they are close to ripe. The melon seeds is the valuable part for sunflower. You will feeling the harvest when wear this sunflower pin.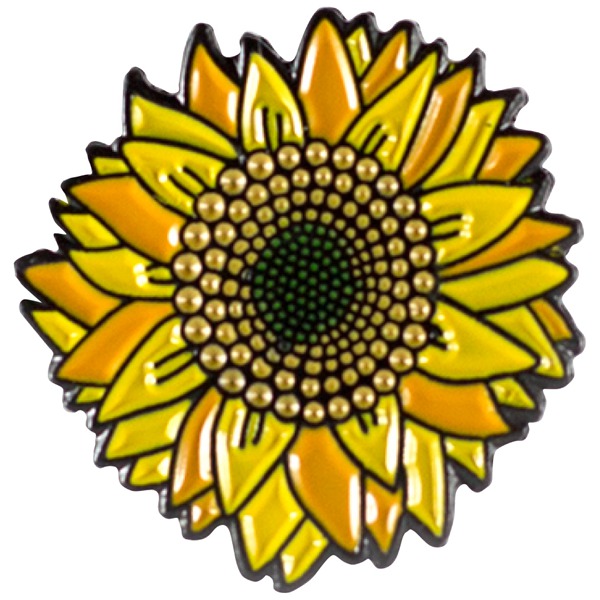 Below is the details:
1) Sunflower lapel pins
2) Material: Iron/bronze
3) Size: 1.25" or custom size
4) Attachment: Butterfly clutch or rubbers
5) Production process: Die struck-polishing-black metal-soft enamel
6) Minimum order: No Minimum (No MOQ)
7) Sampling time: 7 days
8) Delivery time: 10-15 days for 100-5000pcs
9) Packaging: Each into a free poly bag
10)Payment Terms: T/T, Western Union, Paypal