Have you had the Spain flag pins as a Spanish? How do you show your love or loyal to your country? Everyone have their own method, take a flag in home or car, wear the special cloth with Spain. And here we introduce the Spanish flag pins for you: yellow and red color with soft enamel craftmanship. Nice polishing and high quality gold plating. All the process of pins are hand-made. Similar patriotic lapel pins are: USA flag pins, UK flag pins and Austria flag pins.
Spain is The Kingdom of Spain, located in southwestern Europe, west of the same in the Iberian Peninsula, Portugal, north is close to the Bay of Biscay, northeastern borders France (France flag pin) and Andorra, south across the Strait of Gibraltar and Africa Morocco sea. 96% of the population believe in Catholicism (religious lapel pins), Capital: Madrid, major cities: Valencia, Barcelona, Seville, National Day: October 12, Anthem: "Royal March".
The Spanish flag was a rectangular shape, length and width ratio of 3:2. Face of the flag consists of three parallel horizontal rectangles, top to bottom are red, each face of the flag to 1/4; the middle yellow. The yellow part of the partial left side of the draw with Spain, the national emblem. Red and yellow Spanish people love the traditional colors, and represent the composition of Spain's four ancient kingdom. One theory is that red represents Treasure of the Sierra, the yellow represents the sand, Treasure of the Sierra sand symbol of the Spanish people love bullfighting, which embodies the spirit of bravery, defying brute force.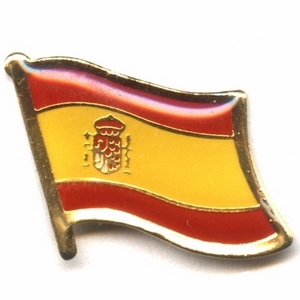 Below is the detailed specification:
1) Spain flag pins
2) Material: Iron/Bronze
3) Size: 1" or custom size
4) Attachment: Butterfly clutch
5) Production process: Stamping-plated-enamel
6) Minimum order: 1 piece
7) Sampling time: 7 days
8) Delivery time: 10-18 days for 1000-5000pcs
9) Packaging: Each into a free poly bag
10)Payment Terms: T/T, Western Union, Paypal