France(La France)is The Republic of France, the name from the Early Medieval Frankish kingdom. Located in western Europe, bordered by Belgium (Belgium flag pin), Luxembourg, Germany (Germany flag pin), Switzerland, Italy, Monaco, Andorra and Spain, across the English Channel with England. France as a permanent member of the UN Security Council, also one of the founding Member States of the European Union and NATO, one of the G8 and four major European economies,and a Schengen member states. Capital: Paris and major cities: Paris, Marseille, National Day: July 14, the national anthem: La Marseillaise, the official language: French. The lawful currency is the euro.

French flag, the tricolor flag is the Paris National Guard pennants of the French Revolution. White on behalf of the king, blue, red represents the people of Paris, a symbol of the royal family and the Paris bourgeoisie Union. Today the French people also believe that the blue tri-color flag is a symbol of equality, white is a symbol of freedom, and red represents the fraternity, as the French people "freedom, equality, fraternity" (French: "Liberté, égalité, fraternité ") of the Universal Declaration. 1946 recognized by the Constitution as the national flag. Three ribbon width ratio of 30:33:37.

Here is the France flag pin designed with normal flag pins. Plating gold color and soft enamel color filled, also epoxy is the final process. Similar with Mexico flag pin or Ireland flag pins. We can custom lapel pins for you if you want unique or special one. Take the French flag pin when you take parties, meeting or holiday is a magic thing. You are the loyal French.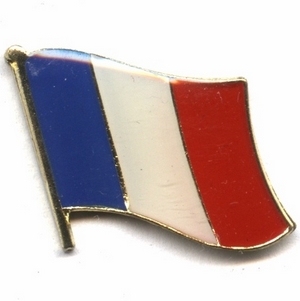 Below is the detailed specification:
1) France flag pins & French flag pins
2) Material: Iron/bronze
3) Size: 1x1" or custom size
4) Attachment: Butterfly clutch
5) Production process: Die struck-plating
6) Minimum order: No MOQ
7) Sampling time: 7 days
8) Delivery time: 10-18 days for 1000-5000pcs
9) Packaging: Each into a free poly bag
10)Payment Terms: T/T, Western Union, Paypal