Belgium is the Kingdom of Belgium, located in northwestern Europe, East border with Germany (Germany flag pins), north adjacent to the Netherlands, South border with France, west of the North Sea, a maritime temperate broad-leaved forest climate. The major rivers are the Maas River and Ace exam River. Antwerp in northern Belgium is the second largest port in Europe, also the world's largest diamond processing place, the capital of diamond. Capital: Brussels, major cities: Bruges, Brussels and Antwerp. National Day: July 21, the national anthem: "Song of the Brabant".
The Belgian flag was rectangular, the length and width ratio of 15:13. Vertical rectangle connected to form the flag from left to right black, yellow, red, three parallel equal. Black is a solemn and a commemorative color, expressed their condolences for the fallen heroes in the 1830 War of Independence; yellow symbol of national wealth and the harvest of animal husbandry and agriculture; the red symbolizes life and blood of the patriot, but also a symbol of the war of independence made ​​the great victory. Belgium is a hereditary constitutional monarchy. King's car flying the flag of the king, the king flag and the flag, four square, flag to approximate brown with the Belgian national emblem, flag the middle at the four corners of the flag to have a crown and the reign of King name first letter.
How to love your country? Take a Belgium flag pin is the nice chosen, here is the one. Gold plating and epoxy, filled color with soft enamel. Nice polishing and shape. Small pins as the European country pins with UK flag pins and Greek flag pins. Can be wear on normal life and festival. It must very proud while only you have.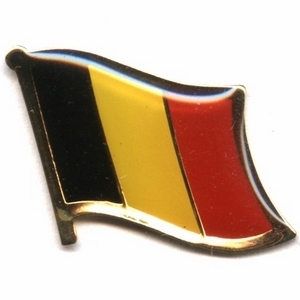 Below is the detailed specification:
1) Belgium flag pins
2) Material: Iron/bronze
3) Size: 1×1" or custom size
4) Attachment: Butterfly clutch
5) Production process: Die struck-plating-enamel
6) Minimum order: No MOQ
7) Sampling time: 7 days
8) Delivery time: 10-18 days for 1000-5000pcs
9) Packaging: Each into a free poly bag
10)Payment Terms: T/T, Western Union, Paypal