"Stop" traffic ban signs, octagonal middle of "stop", the meaning is at the intersection and then driving in stop line stop watching. Indicating that the vehicle must stop lookout outside the stop line, confirmed safe before allowing access. In cars with GM.
Stop to flag in the following cases:
Stop line schematic
Stop line schematic
(1) with a larger trunk traffic branch level-crossing;
(2) unmanned railway crossing;
(3) Other place settings.
Here is the stop sign lapel pins: round lapel pins, center with octagonal shape, red background white word.There is a metal line traverse the words "STOP", little different than other normal STOP. Made with black nickel plating, hard enamel, nice quality and colors filled. Many pins are the round design like:
promotional lapel pins
,
Coast Guard lapel pins
,
vote lapel pins
.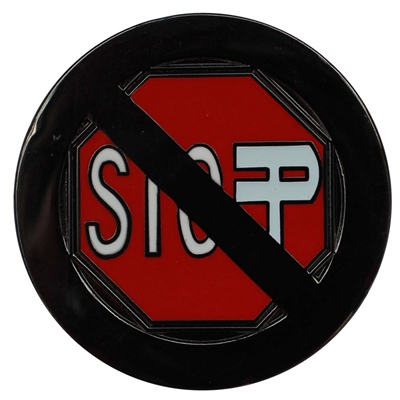 Below is the detailed specification:
1) Stop sign lapel pins
2) Material: Bronze
3) Size: 1.5" or custom size
4) Attachment: Rubber backs
5) Production process: Stamping-polish-hard enamel-black nickel plating
6) Minimum order: No MOQ
7) Sampling time: 7 days
8) Delivery time: 8-15 days for 100-10000pcs
9) Packaging: Each into a free poly bag
10)Payment Terms: T/T, Western Union, Paypal