Skateboard Skateboard project is the originator of the history of extreme sports (
sports lapel pins
), many of the extreme sports are extended from the skateboard project. Skateboarding, which evolved from surfing in the late 1950s and early 1960s, has become the most "cool" movement on Earth today.
Skills for skateboarding include: The AerialL, The Invert, The Ollie. These techniques are arguably the most important slide action in addition to the flap. Two important international skateboarding organizations in the world: INTERNATIONAL ASSOCIATION OF SKATEBOARD COMPANIES: IASC and WORLD CUP SKATEBOARDING: WCS.
Skateboarding is an extension of surfing on the land. The former is limited by geographical and climatic conditions, while the latter has greater freedom. Residents of the sunny Southern California beach community soon made the world's first skateboard.
In today's view, it is a rather primitive invention: a 50*50CM plank is fixed on a skating iron wheel. Even such a simple exercise device has attracted people's interest because it can provide the same psychological feelings for surfing.
The colorful and cute skateboard lapel pins have three enamel colors: green, yellow and pink. The main color is the green, four pink wheels, the linked and fixed and yellow. Black lines with soft enamel. Here are more interesting pins:
flower lapel pins
and
UFO lapel pins
.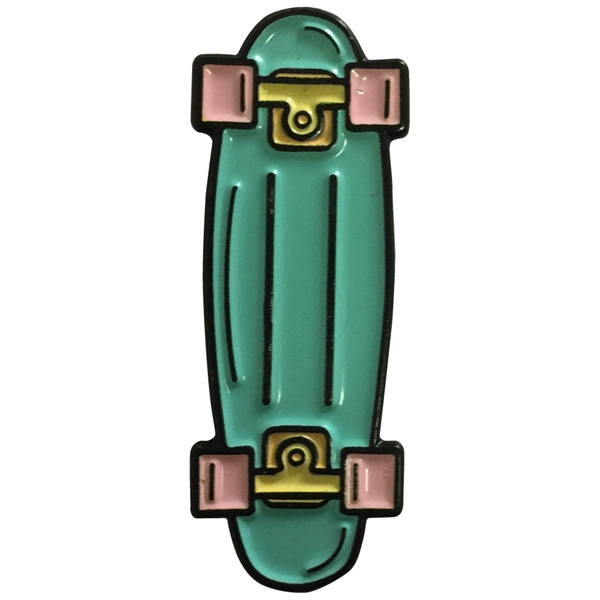 Below is the details:
1) Skateboard lapel pins
2) Material: Iron/bronze
3) Size: 1.25" or custom size
4) Attachment: Butterfly clutch or rubbers
5) Production process: Die struck-polishing-black metal plating-soft enamel
6) Minimum order: No Minimum (No MOQ)
7) Sampling time: 7 days
8) Delivery time: 10-15 days for 100-5000pcs
9) Packaging: Each into a free poly bag
10)Payment Terms: T/T, Western Union, Paypal