Shamrock also known as clover, perennial herb. There are two types, white and red flowers of shamrock . shamrock strong life, plant dwarf and prostrate, but also with the ability to self-broadcast, so the coverage effect. shamrock resistance to cold, the temperature dropped to 0 ° C part of the old leaves yellow taproot lobule close to the ground, stop growing, but still remain green.

Shamrock florid: happiness legend, anyone who found a four leaf clover, that is who will be happy. In some European countries, on the roadside to see the clover that is almost always a good income, flattening, so that Japan give it to others, in order to express their best wishes to the friends. In Ireland, March 17 Saint Patrick Festival, everyone put on a clover flower ball.

This shamrock lapel pin is green color of soft enamel, also maple leaf lapel pin. Casting of the shape then high polishing on surface, bronze plating and epoxy. Can custom the color and plated color. Nice wish will happen will you take this flower lapel pin. Hope everyone are happiness.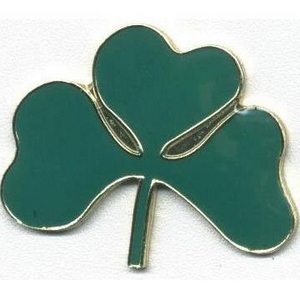 Below is the detailed specification:
1) Shamrock lapel pins
2) Material: Iron/brass/zinc alloy
3) Size: 25x12mm or custom size
4) Attachment: Butterfly clutch
5) Production process: Die struck-plating-enamel
6) Minimum order: No MOQ
7) Sampling time: 7 days
8) Delivery time: 8-15 days for 100-10000pcs
9) Packaging: Each into a free poly bag
10)Payment Terms: T/T, Western Union, Paypal