Pumpkin is an annual creeping herbaceous plant. The stems often take root. The petiole is thick. The leaves are broadly ovate or ovoid. The leaves are slightly soft, the veins are uplifted, the tendrils are slightly thick, the monoecious and the fruiting stems. Stout, ribbed and trough, often with several longitudinal grooves or none, many seeds, long oval or oblong. Pumpkin is a thermophilic short-day plant. It has strong drought tolerance and is not strict with soil requirements. However, fertile, neutral or slightly acidic sandy loam soils are preferred.
.
Native to Mexico and Central America, it is widely cultivated around the world. The pumpkin's fruit is used as a soup and can be used as a substitute for food. The whole plant is also used for medicinal purposes. The seed contains pumpkin seeds and amino acids. It has the effects of heat removal, dehumidification and insect repellent. It has control and killing effects on schistosomiasis, and rattan has a heat-clearing effect. Pedicel has the effect of tocolysis and cures toothache. On October 8, 2014, Swiss farmers cultivated the world's largest pumpkin. The squash displayed at a farm show in a small town in eastern Switzerland weighs 953.5 kg.
This pumpkin lapel pin has the regular pumpkin shape, orange body, the top green vine, gold lines around the pumpkin, the colors is not regular soft enamel. It's the great resin, more transparent than enamel. It's the process used less. Other plant pins are:
banana lapel pins
and
pineapple lapel pins
.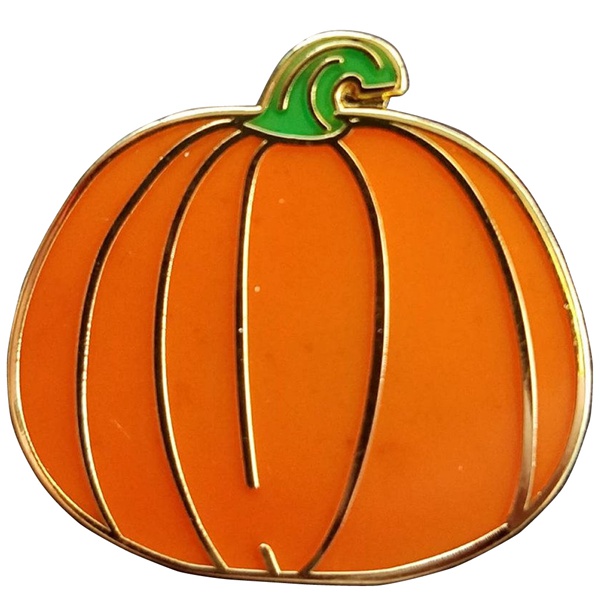 Below is the details:
1) Pumpkin lapel pins
2) Material: Iron/bronze
3) Size: 1.25" or custom size
4) Attachment: Butterfly clutch or rubbers
5) Production process: Die struck-polishing-gold plating-resin
6) Minimum order: No Minimum (No MOQ)
7) Sampling time: 7 days
8) Delivery time: 10-15 days for 100-5000pcs
9) Packaging: Each into a free poly bag
10)Payment Terms: T/T, Western Union, Paypal