Bananas are widely cultivated and eaten in the tropics. Banana flavor, rich in nutrients, harvest throughout the year. The plant is a large herb, the leaves oblong to oval, and some as long as 10 ~ 11.5 feet, the plants died after the result of rhizomatous roots continue to multiply, each strain can live for many years.
Bananas contain a variety of trace elements and vitamins, can help muscle relaxation, physical and mental pleasure, and have some weight loss. The ancient Indian (
India lapel pins
) and Persian folk believe that the golden banana fruit is "God's best health care given to human beings." Legend has it that the Buddhist ancestor, Sakyamuni, gained wisdom by eating bananas. Bananas are therefore hailed as "the fruits of wisdom." There are 130 countries that produce bananas in the world, with the largest production in Central America followed by Asia.
The banana lapel pins also yellow pericarp. It's opened, but not the white banana pulp, one grey fish insted, seems very cute, he opened his little white eyes and smiled, mouth opened talking to you. So loveliness, it's a perfect cartoon pins. Made with black metal with soft enamel process. Here are more fruit lapel pins:
pineapple lapel pins
,
avocado lapel pins
and
papaya lapel pins
.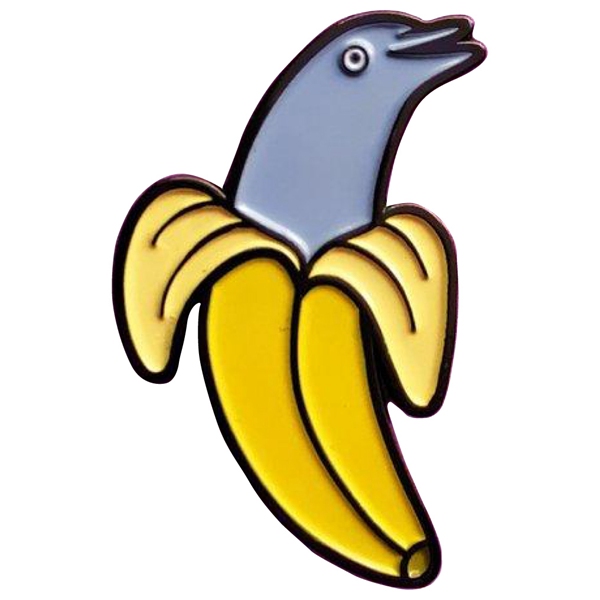 Below is the details:
1) Banana lapel pins
2) Material: Iron/bronze
3) Size: 1.25" or custom size
4) Attachment: Butterfly clutch or rubbers
5) Production process: Die struck-polishing-black metal-soft enamel
6) Minimum order: No Minimum (No MOQ)
7) Sampling time: 7 days
8) Delivery time: 10-15 days for 100-5000pcs
9) Packaging: Each into a free poly bag
10)Payment Terms: T/T, Western Union, Paypal