Ananas comosus is one of the tropical fruits. Pineapple originates in South America Brazil, Paraguay's Amazon River area. Leaves of the fiber is very tough, available for fabric, rope, mesh and paper. Pineapple is one of the world's four major tropical fruits (the other three are bananas, coconuts, mango) and ranked second.
Pineapple flowers from germination, to growth, and then to the splendid bloom. Heartless, pedestrians without boundaries, even if the inch of the soil, but also in-depth essence. This pursuit of perfection has always been accompanied by pineapple flowers. Many of the small flowers close to the stems, the formation of coarse spikes, spikes of the bracts into a radial extension. Each flower is star.
Pineapple is the terrestrial plants, perennial herbaceous plants, hi light, the average temperature of 23 ℃ or more, resolve summer heat, digestion diarrhea, a symbol of perfect.
Pineapple lapel pin is one of the fruit lapel pins. Cartoon outline with green leaves (
leaves lapel pins
), orange color surface, but where is the flower (
flower lapel pins
)? Flower is drop off when pineapple riped. The special designs are two round windows and one big blue door. Seems it's a pineapple house, someone living in there. It's very cute and imagination. Made with black metal and soft enamel process.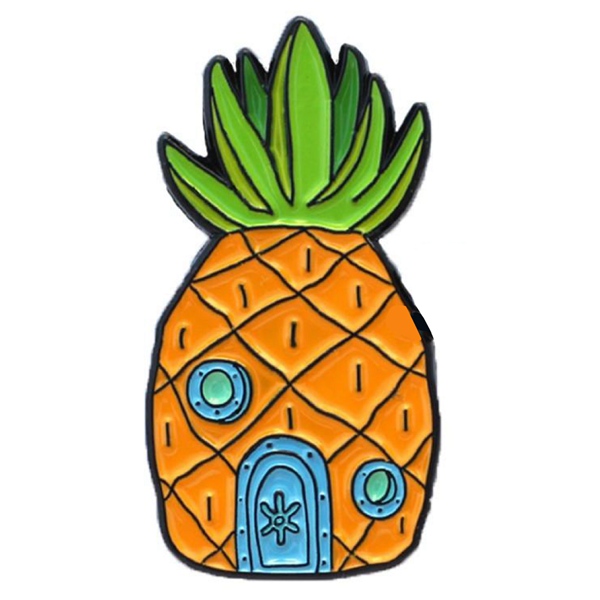 Below is the details:
1) Pineapple lapel pins
2) Material: Iron/bronze
3) Size: 1" or custom size
4) Attachment: Butterfly clutch or rubbers
5) Production process: Die struck-black spray-soft enamel
6) Minimum order: No MOQ
7) Sampling time: 7 days
8) Delivery time: 10-15 days for 100-5000pcs
9) Packaging: Each into a free poly bag
10)Payment Terms: T/T, Western Union, Paypal