Avocado 10-15 meters high, diameter of 1-1.5 meters; crown to carry out more and more dense branches, stems stout; bark thick, irregular cracking, with milk. Leaves oblong, lateral veins more than 30 pairs, parallel to each other, slightly raised on both sides, reticulate fine; petiole round. Pedicel rusty pilose; calyx lobes lanceolate; flowers (
flowers lapel pins
) sweet, corolla lobes ovate, entire. Berry globose, 3-4 cm in diam., Edible; seeds ovoid, yellowish brown, shiny, scar lateral, oblong. Flowering in June, the fruit of October.
Widely distributed in tropical Africa. Seed rich in fat, as an important cooking oil and important industrial and mining oil, but also made margarine and soap. The fruit of avocado is a kind of fruit with high nutritional value, rich in vitamins, rich in fatty acids and protein and high content of sodium, potassium, magnesium and calcium. The nutritive value is comparable to that of cream, and even "forest cream" The reputation of the general fruit as food, but also can be made into dishes and cans.
This avocado lapel pins is similar as the real one. Dark grey outline and green inner around, center is the brown nutlet. They are gold lines shinny, if you love avocado, wear a avocado pin is a great idea. This great fruit let us more healthy, delicious cream. Here are more fruit pins:
Pineapple Lapel Pins
.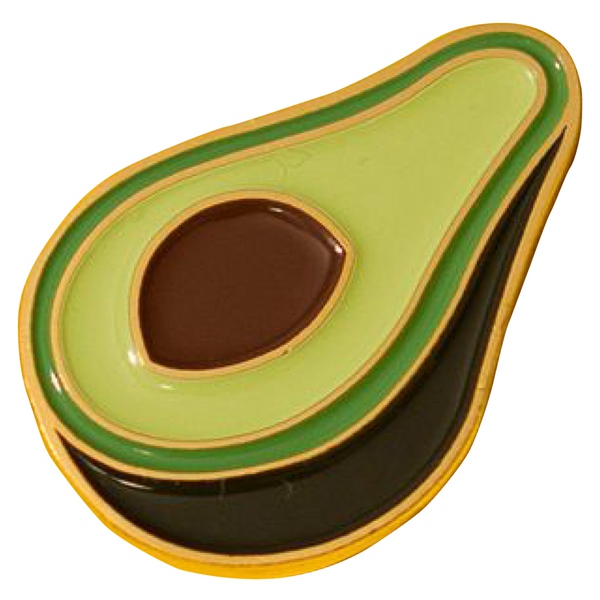 Below is the details:
1) Avocado lapel pins
2) Material: Iron/bronze
3) Size: 1" or custom size
4) Attachment: Butterfly clutch or rubbers
5) Production process: Die struck-polishing-gold plating-soft enamel
6) Minimum order: No Minimum (No MOQ)
7) Sampling time: 7 days
8) Delivery time: 10-15 days for 100-5000pcs
9) Packaging: Each into a free poly bag
10)Payment Terms: T/T, Western Union, Paypal