The Catholic Church is one of the major denominations of Christianity, among the Christian Catholic Church, Roman Catholic Church is the largest congregation, the world 1.13 billion, accounting for 17% of the total world population. Catholic view that everything in the universe are created by God, humans of course, created by God. God of creation is the core of the Catholic Church.

The Monstrance used GLASS or crystal made ​​transparent PYX, around with a metal jewelry. Usually been carefully decorated. Roman Catholic Church to use it to display the Eucharist. Monstrance is a small cabinet to store bread ordained in the Catholic Church, in Christian activities, a bread represents the body of Jesus for the redemption of the world, generally located at the altar of the central or the side.

This monstrance lapel pin used design as the mold. Cross lapel pin on top, round plate in the center and tray at bottom. Middle with word:"IHS" and "十". Die struck the shape then hand polishing on surface. Gold plating finished as Christian lapel pin and white soft enamel at last different with religious lapel pins.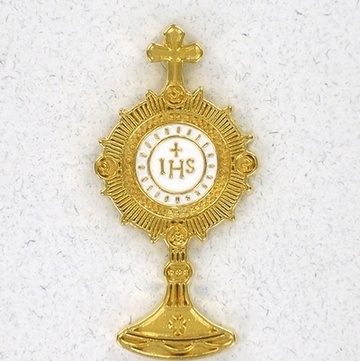 Below is the detailed specification:
1) Monstrance lapel pins
2) Material: Iron/Bronze
3) Size: 30x15mm or custom size
4) Attachment: Butterfly clutch
5) Production process: Stamping-plated-enamel
6) Minimum order: No MOQ
7) Sampling time: 7 days
8) Delivery time: 7-18 days for 100-10000pcs
9) Packaging: Each into a free poly bag
10)Payment Terms: T/T, Western Union, Paypal