The cross mark is the oldest, may have a lot of mysterious significance. The cross is an ancient universal symbol representing the sun. The cross also symbolizes the tree of life, is a reproductive symbols, the horizontal represent males, the vertical on behalf of women. The cross is an ancient instrument of torture punishable by death, a death penalty execution. Today, the cross is the mark of the Christian faith. Use the word "cross" in the New Testament Greek "STAUROS" (Σταύρωση) and the "XULON".
There are many kinds of cross, like: Latin Cross, Greek Cross, Celtic Cross, Tau Cross, Maltese Cross. Next is not the normal cross, it's a little different. The cross lapel pin, filled color of blue. And covered epoxy on surface. Not very vertical even not resemble with cross. Seems a little waving, fluttering. Also here you can check the
Christian lapel pins
and
religious lapel pins
.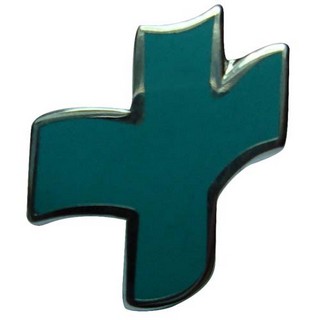 Below is the detailed specification:
1) Cross lapel pin
2) Material: Stainless iron
3) Size: 1"x1" or custom size
4) Attachment: Butterfly clutch
5) Production process: Stamping-soft enamel-epoxy
6) Minimum order: No MOQ
7) Sampling time: 8 days
8) Delivery time: 8-15 days for 100-10000pcs
9) Packaging: Each into a free poly bag
10)Payment Terms: T/T, Western Union, Paypal