Wedding refers to spouses spousal relationships established civil legal acts in accordance with the conditions and procedures prescribed by law, and assume the rights, obligations and other responsibilities. Marriage is an institution recognized by the society at that time, mutually binding partners of both sexes. Dating back to primitive times, there is the so-called marriage, which is a property of higher life gregarious instinct. Here is the
wedding coin
.
States wedding custom and blessing:

Early African American: Jumping the Broom In the times of slavery, African American couples were not allowed to formally marry and live together. To make a public declaration of their love and marriage, a man and woman and the beat of drums, jumped over a broom. Until today some African Americans still have this symbolic ceremony in their wedding .

Belgium: The bride may still embroider her name on a handkerchief, carry it on the wedding day. After the wedding handkerchief frame it and keep it until the next family bride marries.

Egypt: In Egypt, courted by the groom's family, not the groom himself, to the bride. Many marriages are agreed with parents.

England: Traditionally, the village bride and people take wedding party always walk together to the church. A little girl walking in the head of the queue, the way she throw flowers on the bride's life indicates that the road will be filled with flowers, always happy.
Here we introduce the love wedding pins, it's custom by a marriage couple in wedding. Also can be called the pendant, made with bronze, gold plating, top is a crown, down with three colors:red, white and green. Center white with words:"I ❤ Hallmark". Glitter (
Glitter lapel pins
) on red and green color, nice and shinny.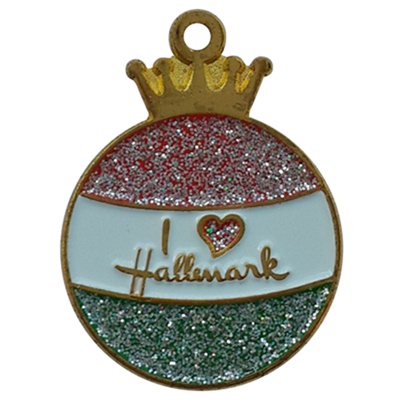 Below is the detailed specification:
1) Love wedding pins
2) Material: Bronze/iron
3) Size: 1" or custom size
4) Attachment: Butterfly clutch
5) Production process: Die struck-plating-soft enamel
6) Minimum order: No MOQ
7) Sampling time: 7 days
8) Delivery time: 10-15 days for 1000-5000pcs
9) Packaging: Each into a free poly bag
10)Payment Terms: T/T, Western Union, Paypal