A wedding is the ceremony in which two people are united in marriage or a similar institution. Also there are many type of wedding, such as Civil wedding, Same-sex wedding, Destination wedding, White wedding, Weekend wedding, Military wedding, Double wedding, Mass wedding. All of these types are consist of two at least. It's the most happiness time in our life. So,enjoy it at that time. Most of us it will be only one chance in life.

The unforgettable time and some unforgettable things. Like wedding dress used, wedding photos and videos or wedding commemorative thing. Wedding coin is the better chosen for commemorate. It can be kept for long time very exquisite. And can be given for every guest. Give your wished for them, also can be decorated at home.

Can be use your head portrait on it or the cartoon. This is made of iron, stamping and polishing. Finished with plating. Simple and practical. Also it can be produce of soft or hard enamel. And print your photo on it, epoxy on surface. When wedding make a wedding coin is very good for commemorative thing. Here custom challenge coins no minimum for you. And lots of mint coins, antique coins and challenge coins design for you.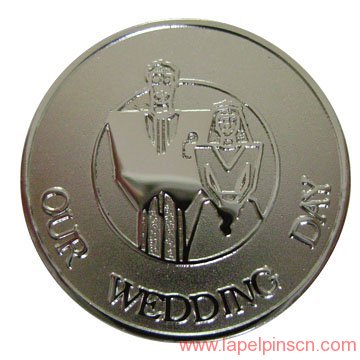 Below is the detailed specification:
1) Wedding coins
2) Material: Iron/Bronze
3) Size: 1 1/2" or custom size
4) Plating Color: Silver
5) Production process: Stamping-plating
6) Minimum order: No MOQ
7) Sampling time: 8 days
8) Delivery time: 7-10 days for 100-10000 pcs
9) Packaging: Each into a free OPP bag
10)Payment Terms: T/T, Western Union, Paypal