Antique coins is the ancient coin in old days. Therefore, small number in the world, so the price is very expensive. Loved with a lot of collectors. Some unique, beautifully coins, is a very worthy with collection of treasures. These ancient coins are valuable wealth of human, collections can also be used as investment goods. Some antique coins for sale is priceless.

High value of the coins are the material of gold or silver,or other decorative items. In terms of technology, the value of historical events, or the number of rare degree, are the best. Therefore, these coins are very valuable. This coin is plating with anti-silver,material of zinc alloy.Size of 1 3/4",thickness of 3mm.

But years on, these products are no longer producing. Are non-renewable, but we can also manufacture similar products, and even to imitate existing products. Antique is the old metal plating, so that we can effect the formation of age-old.Thus the appearance of antique coins and antique lapel pins, this is fond of more and more consumers. Lapel Pins Cn production and sales all kinds of metal coins, custom challeng coin,lapel pin and keychain.Welcomes you.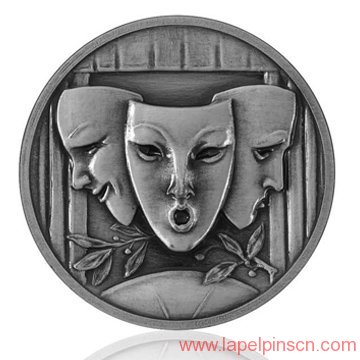 Below is the detailed specification:
1) Antique coins
2) Material: Zinc alloy/Bronze
3) Size: 1.75"
4) Plating color:Anti-nickel
5) Production process:Casting/Die struck+plating
6) Minimum order: No MOQ
7) Sampling time: 8 days
8) Delivery time: 8-18 days for 100-5000 pcs
9) Packaging: Each into a free OPP bag
10)Payment Terms: T/T,Western Union,Paypal