A grenade is a small projectile that can attack and defend, but also a wider and more bulky ammunition. It can kill life targets, but also destroy tanks and armored vehicles. Grenades have played an important role in all previous wars because of their small size, low mass, portability and ease of use. Because of the seventeenth century, eighteenth-century European grenade appearance and fragments of some pomegranate and garnet, it is the name. Although modern grenades are cylindrical in shape and some have handles, the interior is rarely packed with prolaminated prolamins, but the name of the grenade still follows. General grenade explosion range of 10-20 meters.
Grenade also called hand grenade, the earliest concept appears around the Byzantine Empire during the 13th century Leo III era, to the 13th century China appeared iron shell to throwing gunpowder explosives throwing weapons, appeared in Europe 15th century black gunpowder grenades, when Mainly used in fortifications and prisons. By the mid-17th century, some European countries equipped field troops with grenades and those who had been specially trained to use such ammunition were called grenadiers.
This grenade lapel pins made with nickel silver metal, pink soft enamel, the long lock at the left side, round
guard ring also pink color too. Center is the recessed metal. It's the military pins like military aircraft lapel pins and eagle lapel pins.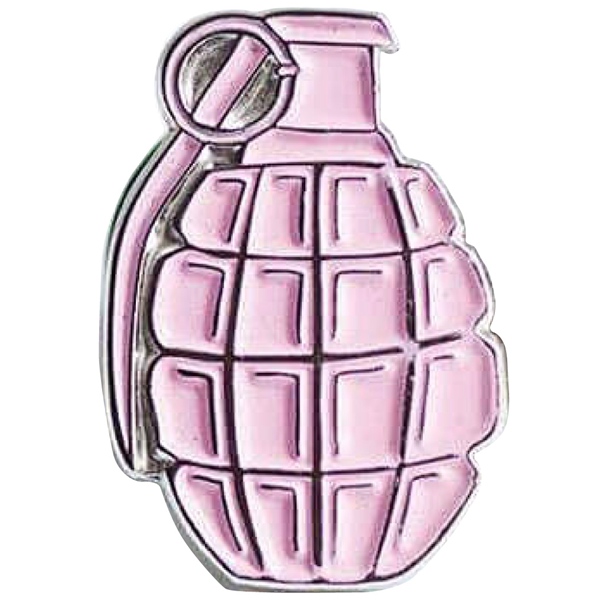 Below is the details:
1) Grenade lapel pins
2) Material: Iron/bronze
3) Size: 1.25" or custom size
4) Attachment: Butterfly clutch or rubbers
5) Production process: Die struck-polishing-silver plating-soft enamel
6) Minimum order: No Minimum (No MOQ)
7) Sampling time: 7 days
8) Delivery time: 10-15 days for 100-5000pcs
9) Packaging: Each into a free poly bag
10)Payment Terms: T/T, Western Union, Paypal