The donkey looks like a horse (
horse lapel pins
), mostly gray-brown, and is not powerful and mighty. It has a large head and long ears, a slightly narrow chest, thin limbs, and a short torso. Therefore, the body is about the same height as the body and has a square shape. The skin of the neck is thin, the hooves are small and firm, the physique is strong, and the resistance is strong. The donkey is very strong, resistant to extensive, not easy to get sick, and has the advantages of gentle temperament, hard work, and obedience.
Donkeys are smaller than domestic horses and zebras (
zebra lapel pins
), but share many characteristics with equine genus: the third toe is well-developed and hoofed, and the remaining toes have been degraded. Donkey meat refers to the meat of donkeys. Its unsaturated fatty acid content, especially linoleic acid and linolenic acid with extremely high biological value, is much higher than pork and beef.
This donkey lapel pin is the lovely donkey pin. Short feet and tails. Special design is the blue cushion on his back, seems it can be seated. So small one donkey have more power. Famous people with donkey is the effendi with his donkey. The big black eyes and cute mouth. Orange ears right big one and left small one. All metals are gold plating with soft enamel, perfect enamel colors.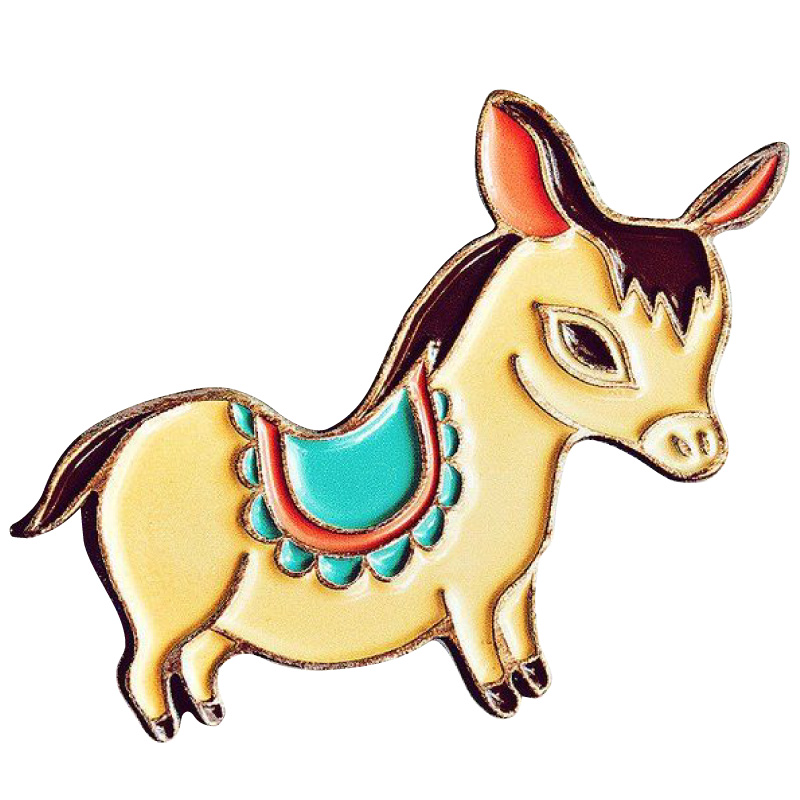 Here are the details:
1) Donkey lapel pins
2) Iron/Bronze/Copper/Zinc alloy
3) Size: 1.5" or custom size
4) Attachment: Rubbers or butterfly clutch
5) Production process: Die struck-gold plating-soft enamel
6) Minimum order: No Minimum (No MOQ)
7) Sampling time: 7 days
8) Delivery time: 10-15 days for 100-5000pcs
9) Packaging: Each into a free poly bag
10)Payment Terms: PayPal,T/T or Western Union