Hawk also called eagle (
eagle lapel pin
), are distributed on every continent except Antarctica. There are eagle trails in deserts, jungles, swamps, woods, mountains, and seashores. All hawks hunt during the day and rest at night. Wild hawks live for about twenty years, and domesticated hawks live for forty years. The eagle is a carnivorous animal that catches small animals such as mice, snakes, hares or birds (
birds pins
). hawks can catch goats, sheep and fawns.
Most of the hawks are active during the day. Even if it soars at a height of more than one kilometer, it can clearly see the prey on the ground, which is a well-known clairvoyance. It has a pair of strong feet and sharp claws, which are convenient for catching animals and tearing the flesh of animals. It has a large beak, a well-developed gastrointestinal tract, and a strong digestive ability. The rats that eat it will be digested in a short time. It inhabits canyons, woodlands, woods, and so on. It often soars in the air during breeding and emits loud calls.
This hawk enamel lapel pin have the big wide wings, the white and grey feathers. The dark grey claw big and strong. The eyes is the gold glitter. Background is the round gold, it's a sun shinny in the sky. This hawk enamel pin have the amazing design, beautiful glitter process. Bottom left is the 3D silver hawk lapel pins, it's more vivid and more texture when you touch it.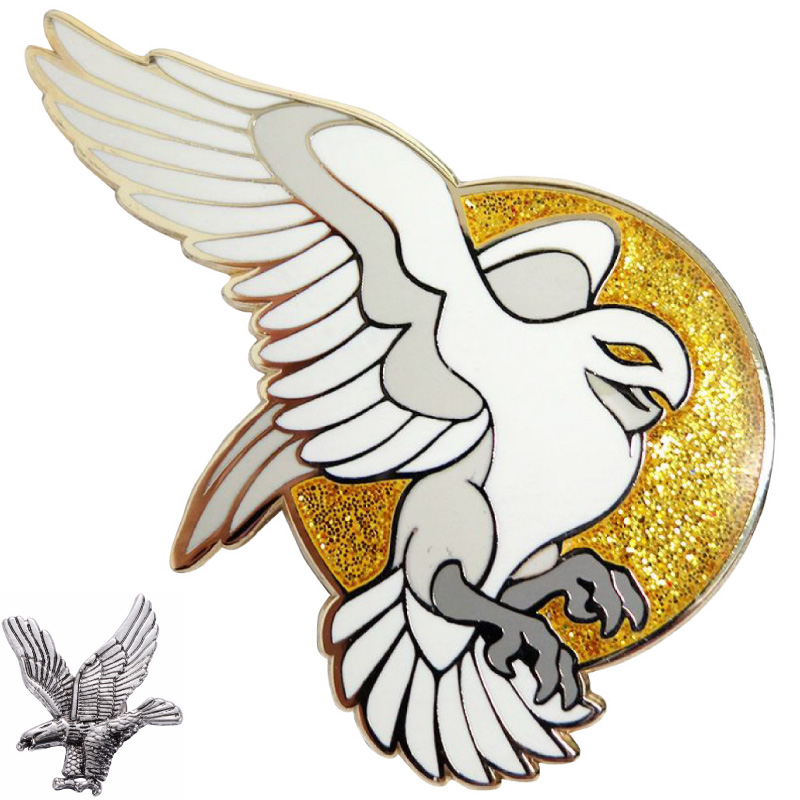 Here are the details:
1) Hawk enamel lapel pin
2) Iron/Bronze/Copper/Zinc alloy/Pewter alloy
3) Size: 1.5" or custom size
4) Attachment: Rubbers or butterfly clutch
5) Production process: Die struck-black nickel-hard enamel
6) Minimum order: No Minimum (No MOQ)
7) Sampling time: 7 days
8) Delivery time: 10-15 days for 100-5000pcs
9) Packaging: Each into a free poly bag
10)Payment Terms: PayPal,T/T or Western Union