Boa also called python is a large reptile of the genus Pythonidae. Common body length is 3-5 meters. There is a dark brown spear-shaped spot on the back of the head and neck. There is a black vertical spot on the side of the head. The back of the body is tan, taupe or yellow. There are large black edges on the back and sides. Clouded leopard markings.
Boas inhabit tropical and subtropical low mountain jungles. Good climbing, lethargy, nocturnal, omnivorous predators often crawl slowly close to the prey, quickly bite the body and wound it to death, and squashed into long bars, swallowed whole. boas can eat animals such as goats, deer, musk deer, pigs (
pig lapel pins
), etc. They often eat rats, birds, reptiles and amphibians. Except for the animal hair, it can be digested, but it can be eaten for several months after fullness, and hibernate for 4-5 months. This species is distributed in Asian countries such as China, India, Cambodia, Laos, Myanmar, Nepal, Thailand, and Vietnam.
This boa enamel pin have the black metal, colorful enamel like red, orange, green, blue, white and dark grey, seems a rainbow. All colors are made very bright. No powder or impurity. Each color are very clear and not mixed. The soft enamel process are very smooth, equably filled each recessed area.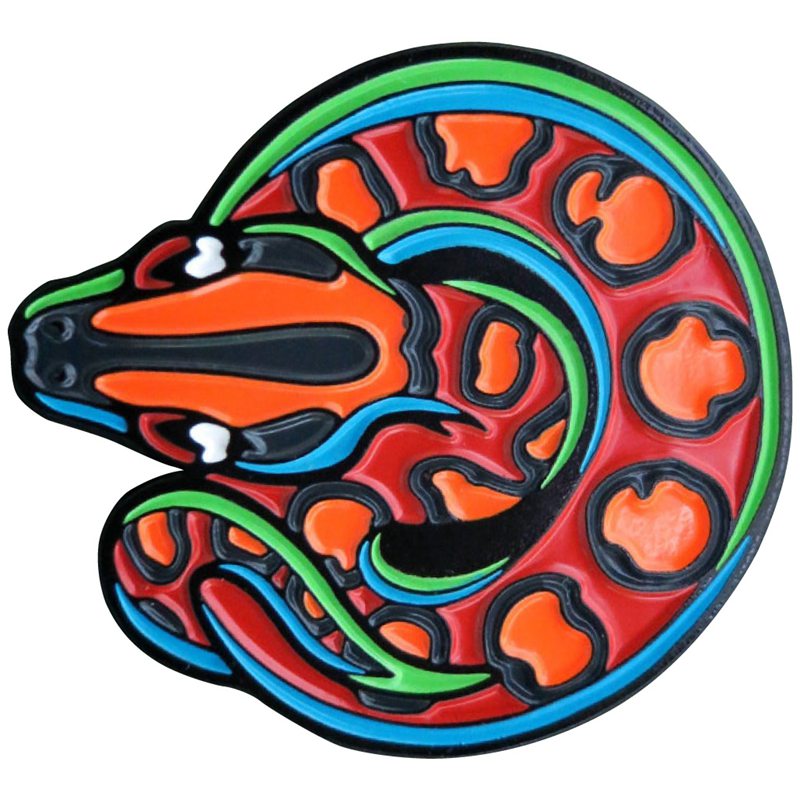 Here are the details:
1) Boa enamel pins
2) Iron/Bronze/Copper/Zinc alloy/Pewter alloy
3) Size: 1.25" or custom size
4) Attachment: Rubbers or butterfly clutch
5) Production process: Die struck-black spray-soft enamel
6) Minimum order: No Minimum (No MOQ)
7) Sampling time: 7 days
8) Delivery time: 10-15 days for 100-5000pcs
9) Packaging: Each into a free poly bag
10)Payment Terms: PayPal,T/T or Western Union