Gecko is a species of lizard with a flat dorsal abdomen and grain scales. The fingers and toes are extended and have the ability to adhere, allowing them to crawl quickly on walls, ceilings, or smooth surfaces. Gecko is an animal that emerges day and night. During the day, it lurks in concealed places such as under the seams, under the eaves, and behind the cabinets, and it comes out at night to move. In the summer and autumn evenings, geckos are beneficial and harmless animals that prey on mosquitoes, flies, moths and spiders on the walls, under the eaves or on the poles.
When the gecko is frightened or when you catch it, as soon as you touch it, its tail will immediately break, and the gecko will run away. This phenomenon is called "self-cutting" in zoology, also known as "self-cutting". Because there are many nerves in the broken section of the tail, after it leaves the body, the nerves do not lose their effect immediately, so they will still wiggle, and they can scare them. Sometimes they can achieve self-defense. The gecko will not regenerate too long after the tail is broken, and the tail will regenerate.
This gecko lapel pin have the nice design like gecko, all are nickel silver metal, the
soft enamel
making the glitter in it. The purple enamel are making the lines of the gecko back. Four feet and a long tail. Also you can customized with any other process like hard enamel, glow in dark.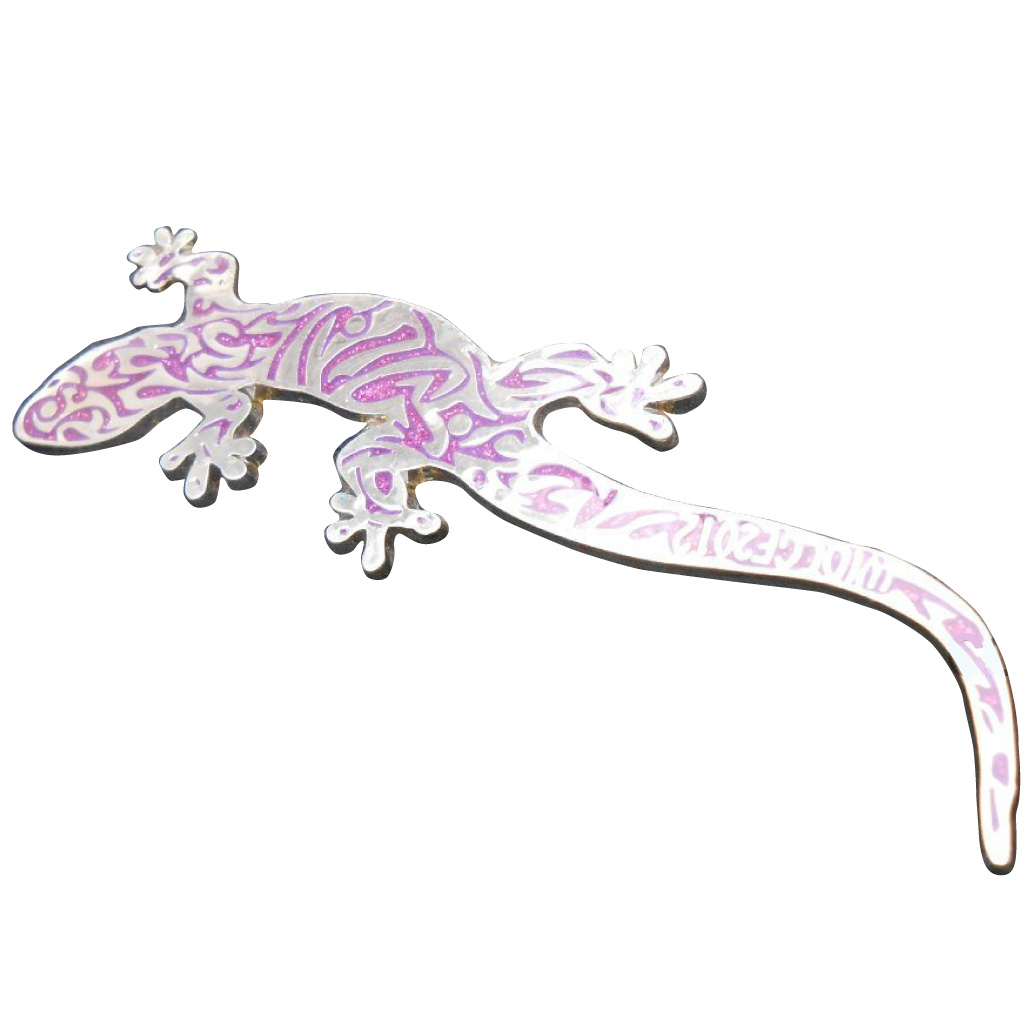 Here are the details:
1) Gecko enamel pins
2) Iron/Bronze/Copper/Zinc alloy/Pewter alloy
3) Size: 1.25" or custom size
4) Attachment: Rubbers or butterfly clutch
5) Production process: Die struck-nickel silver plating-soft enamel
6) Minimum order: No Minimum (No MOQ)
7) Sampling time: 7 days
8) Delivery time: 10-15 days for 100-5000pcs
9) Packaging: Each into a free poly bag
10)Payment Terms: PayPal,T/T or Western Union