Squid, also known as calamari, has a conical body, pale body, hazel spots, a large head, and ten feet in front. It often swims in groups of 20 meters deep. Squid is a mollusk living in the ocean, also the jellyfish (
jellyfish lapel pins
). It has a slender body with a long cone shape and a suction cup at the front end. Mainly distributed in tropical and temperate shallow seas.
It is often active in the upper and middle layers of shallow seas, and its vertical movement range can reach more than 100 meters. It feeds on krill, sardines, silver mandarins, and small male fish, and is itself a prey for ferocious fish. Eggs mature in batches and are produced in batches. The amount of eggs produced by different species also varies widely, from hundreds to tens of thousands. Squid is rich in calcium, phosphorus and iron, which is conducive to bone development and hematopoiesis, and can effectively treat anemia.
This squid enamel pin have the silver metal with hard enamel process. Most of the colors are red, little grey as the antenna, the eyes black. There are many little lines with squid, so the zinc alloy is the best material, many cut outs and small recessed metal. So squid are so cute as the cute animal pins.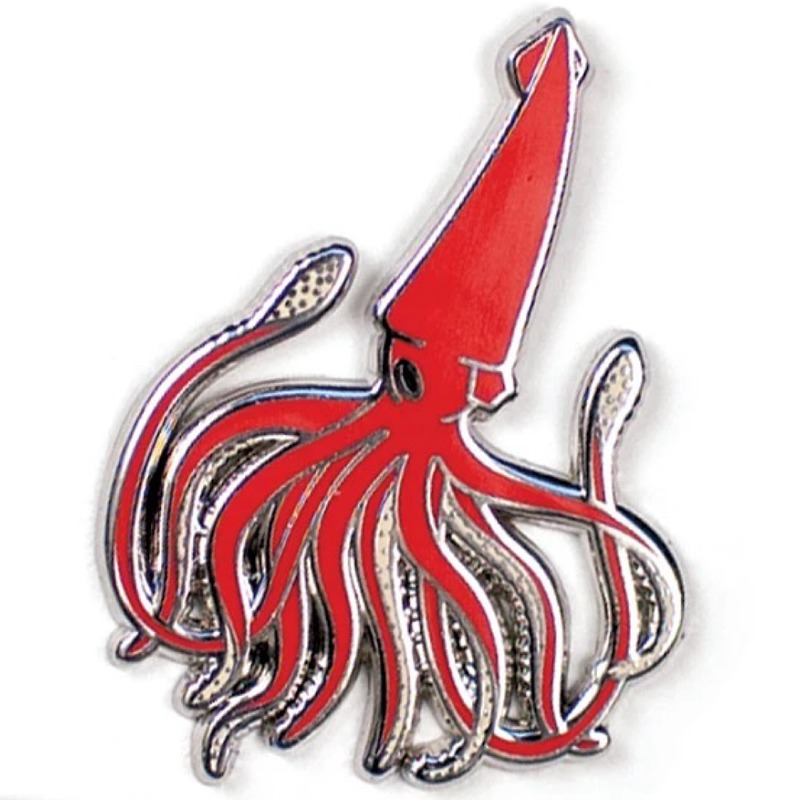 Here are the details:
1) Squid enamel pins
2) Zinc alloy
3) Size: 1.5" or custom size
4) Attachment: Rubbers or butterfly clutch
5) Production process: Die casting-copper plating-hard enamel-nickel silver
6) Minimum order: No Minimum (No MOQ)
7) Sampling time: 7 days
8) Delivery time: 10-15 days for 100-5000pcs
9) Packaging: Each into a free poly bag
10)Payment Terms: PayPal,T/T or Western Union