The hornbill is a precious and beautiful large bird. The hornbill mouth occupies one-third to one-half of the body's length. The wide and flat toes are very suitable for climbing activities on trees. A pair of large eyes have thick eyelashes. The weirdest is on its head. It has a bronze helmet-like protrusion, just like a rhino horn, hence the name hornbill. It is mainly distributed in Africa and southern Asia. Most hornbills live in tropical rain forests in Africa and Asia. They nest in the hollows of trees that are mostly peckers.
Hornbills generally live about 30 to 40 years of age, with the highest life span reaching 50 years. Hornbills are generally large heads, thin necks, wide wings, and long tails. The plumage is brown or black and usually has sharp white markings. The body is about 70-120 cm long, and the mouth is 35 cm long. Its large mouth and helmet protrusion are very clumsy, but it is actually very smart. Berry-eating, mouse-insect predation, nest building, etc. can be done neatly with a big mouth. The hornbill does not change its spouse for life, and raises offspring together in a unique way.Most of them live only in healthy tropical rain forests and use their own methods to make the forest healthier.
The hornbill lapel pin have the shinny gold metal, black abdomen and tail colors. Yellow body and colorful beak. Red beck front. Blue claw with black eyes. So cute design pin, you will be have one if you like this big bird, sweet shape and colors. You need a hornbill pin if you have feeding a bird. Here is the
bird pins
and
eagle pins
.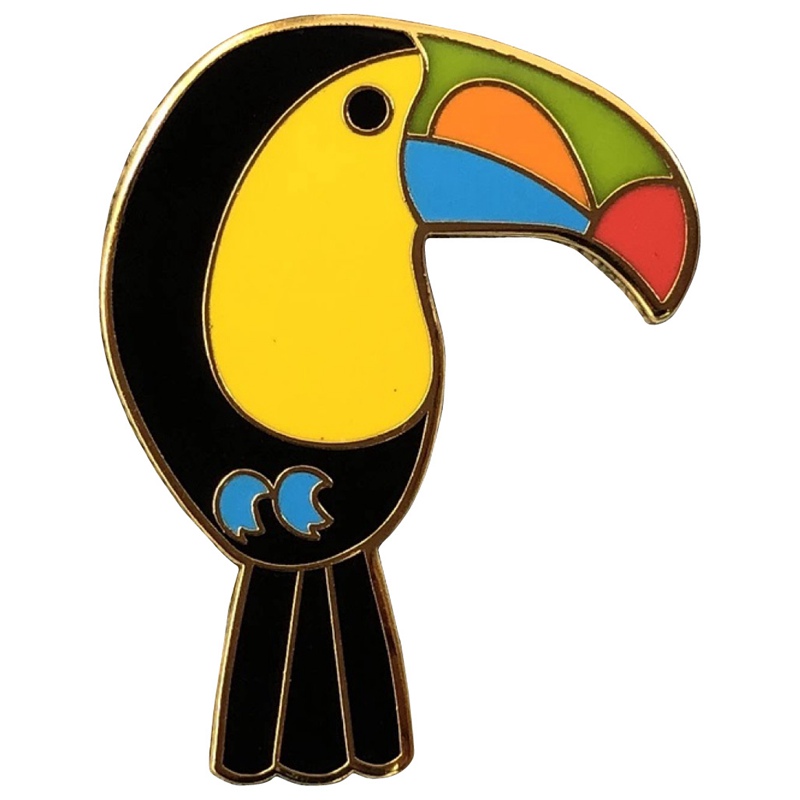 Here are the details:
1) Hornbill lapel pin
2) Iron/Bronze/Copper/Zinc alloy
3) Size: 1.5" or custom size
4) Attachment: Rubbers or butterfly clutch
5) Production process: Die struck-copper plating-hard enamel-gold plating
6) Minimum order: No Minimum (No MOQ)
7) Sampling time: 7 days
8) Delivery time: 10-15 days for 100-5000pcs
9) Packaging: Each into a free poly bag
10)Payment Terms: PayPal,T/T or Western Union