Christmas Day (Christmas), the name is the abbreviation for "Christ's mass". Mass is a liturgy of the church, Christmas is a religious festival. To celebrate it as the birth of Jesus, which also known as Christmas. December 25 of each year, celebrate the day Christians (Christians lapel pins) celebrate the birth of Jesus Christ, at Christmas, most of the Catholic Church will be the first Christmas Eve on December 24, which is held on the morning of December 25, midnight mass. While some of the Christian Church will hold a caroling, and then celebrate Christmas on December 25.

Westerners use red, green, white as Christmas colors, every household to decorate the Christmas color on Chrismas Day. Red is Christmas flowers (flower lapel pins) and candles. Green is Christmas tree, it is the main Christmas decorations. Red and white side by side is Santa Claus, he is the most popular figures in the Christmas activities. Western children put a sock in front of the fireplace or next to the pillow, waiting for Santa Claus to gift on the socks in their sleep, before Christmas Eve. In the West, to play Santa Claus is also a custom. Christmas Eve (silent Night) on December 24. Christmas songs: Silent Night, Joy to the World!, Jingle Bells, Angels We Have Heard on High.

Below is the Christmas lapel pins with the Santa Claus design, also you can call it Santa Claus lapel pins. Gold plating with metal line, means happy and festival. Color filled with the cream and epoxy. Seems a little glitter pin. And fixed the diamond with the eyes. Wear it on this special day will be very exalting.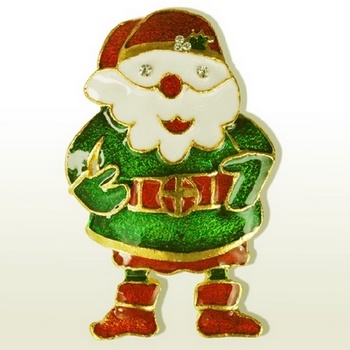 Below is the detailed specification:
1) Christmas lapel pins
2) Material: Zinc alloy/bronze
3) Size: 30x22mm or custom size
4) Attachment: Butterfly clutch
5) Production process: Casting/Die struck-plated-enamel-epoxy
6) Minimum order: No MOQ
7) Sampling time: 8 days
8) Delivery time: 10-18 days for 1000-5000pcs
9) Packaging: Each into a free poly bag
10)Payment Terms: T/T, Western Union, Paypal